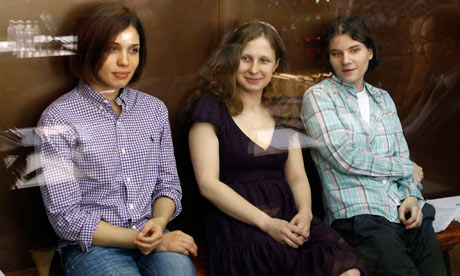 A group of liberal musicians with a fondness for right wing anti-Soviet dissidents and a naive faith in democracy and civil society have received two year prison sentences in Russia.
This repression is nothing in comparison to that faced everyday by working class and oppressed nationality people here in the United States (and for that matter in Russia)-where multi-decade prison terms for nebulous "crimes", physical and sexual torture are the norm.
So forgive us if we not only do not support Pussy Riot but find the outpouring of international solidarity fueled by inter-imperialist rivalry and residual anti-communist ideology (with the defendants themselves playing into this by comparing their own situation to that of political detainees in the Stalin era) to be rather nauseating.
Where is the international "progressive" support for the thousands of proletarian youth facing equivalent repression for resisting police terror and unemployment in the UK during the August uprisings? How about for the Black Libyans detained in concentration camps by NATO's Islamist mercenaries?
Pussy Riot receives the support of the western imperialist media and the Russian "democratic" opposition because they target as the enemy not the imperialist bourgeoisie of Russia and the entire world but Putin and his regime who have earned the ire of the West for resuscitating Russia as an independent factor in the global capitalist struggle for hegemony.
The working class in Russia and worldwide experiences terror and violence more extreme then anything inflicted on Pussy Riot as a normal condition of its existence under the bourgeois dictatorship which the liberal advocates of human rights and democracy defend as a ideal state of equality and freedom.
The discourse of Pussy Riot is the discourse of a classless petty bourgeois liberalism-a discourse which rejects all "totalitarianism" except the totalitarianism of capital.
The dictatorship of Putin is not the problem confronting the masses. The problem is the dictatorship of the bourgeois in Russia and worldwide a problem masked by the hypocritical phraseology of freedom and individuality promoted by the whole complex of ideological state apparatuses.
The solution is not human rights or free expression but the seizure of power by the proletariat organized as a political class to progressively destroy commodity relations.