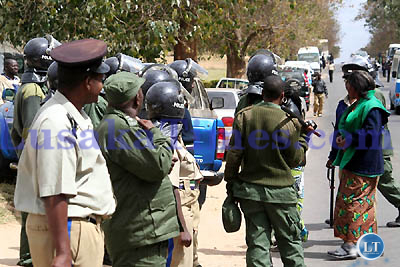 Ten people were arrested in Kitwe yesterday following running battles with police over the non-payment of the revised minimum wage.
The 10, who were arrested for riotous behaviour, are part of a group of workers hired to construct the Freedom Park shopping mall. They have been charged with conduct likely to cause breach of the peace.
The rampaging workers blocked the road with stones and burnt tyres as they demanded payment of the revised salaries.
On July 11, Government issued a statutory instrument raising the minimum wage for domestic, shop and general workers by 100 percent. The revision takes effect this month-end.
Police in riot gear dispersed the workers, who blocked the road leading into town in the early hours of yesterday.
Copperbelt commissioner of police Mary Tembo confirmed the arrest of the workers in an interview after a violent protest over the alleged failure by their employers to pay them the revised minimum wage.
She said the workers disrupted the flow of traffic in the early hours of yesterday.
"We have arrested 10 workers from a company constructing the shopping mall in Kitwe. The workers blocked the road leading to town causing a huge traffic jam," Ms Tembo said.
And a check by the Zambia Daily Mail found police officers with patrol vehicles manning the premises while some of the workers were on site going about their normal duties.
And the site manager for the project, Wu Yi Tian, said he was surprised that the workers protested without holding any discussions with the contractor.
"I really don't know what is happening outside. I just heard a lot of noise. The workers have not even approached us on anything but I am surprised to hear that they were protesting this morning," Mr Wu said.
Wages for various categories have been revised upwards with domestic workers' wages being increased from K250,000 to K522,400.
Shop workers' revised minimum wage, including that of general workers, is pegged at K1,132,400 per month.
http://www.lusakatimes.com/2012/07/28/workers-riot-kitwe-payment-minimum-wage/