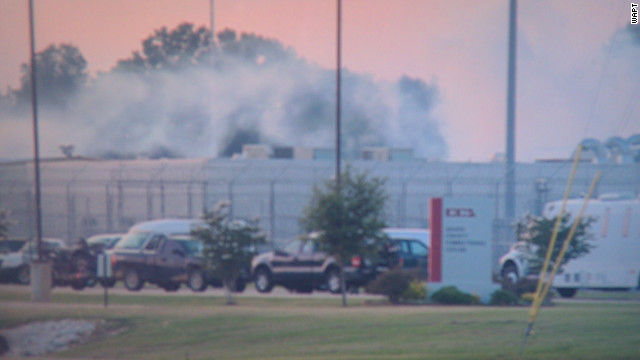 (CNN) — Authorities said early Monday they had put down a prison riot that claimed the life of a guard as it continued into the late evening Sunday.
A 23-year-old guard died of head injuries in the disturbance at the Adams County Correctional Facility in Natchez, Mississippi, according to county coroner James Lee.
It was not immediately clear what prompted the riot, which began about 2:40 p.m. (3:40 p.m. ET) Sunday, officials said.
As of 2:45 a.m. Monday, all inmates were secured in their housing units and the entire facility was put on lockdown, according to the Tennessee-based Corrections Corporation of America (CCA), which owns the facility.
"Tragically, one employee transported to the local hospital did not survive injuries sustained from an assault by inmates," the company said in a statement. The guard's name was not released.
"At one time, I know that at least 24 or 25 hostages were being held," Adams County Sheriff Chuck Mayfield said Monday. "However, now all employees are out safely."
Sixteen other staffers at the prison were treated and released from a hospital, CCA said. Three inmates were also transported to the hospital. As of late Monday morning, one had been placed back into the prison, the company said.
Mayfield said earlier Monday the inmates' injuries "were probably sustained from other inmates — one being a stab wound, concussion and rib injuries."
Authorities said Sunday that the disturbance posed no threat to public safety and was confined to the secure perimeter of the facility. Rumors of escaped convicts were unfounded, Mayfield said.
Local and state law enforcement officials, as well as the Federal Bureau of Prisons, helped the facility quell the violence.
The prison's management and staff were evaluating damage to the facility, CCA said.
The cause of the incident was under investigation. CCA said it was working with the FBI and other law enforcement officials in the probe and supports prosecuting inmates found to have committed crimes during the riot.
Johar Lashin told CNN that he'd heard a lot of noise and commotion when he talked with his brother Jawad, an inmate serving time for aiding and abetting illegal immigrants, around 6 p.m. Sunday. His brother said he was not participating in the riot, despite pressure from other inmates to do so.
Rusty Boyd, a spokesman for Mississippi Highway Patrol, said Sunday evening that 45 to 55 units from that state agency were helping corrections officers deal with the situation.
The Natchez facility is a 2,567-bed prison that houses adult men who are in the United States illegally and charged with crimes.
Warden Vance Laughlin described the facility as quiet and with "few problems" in a March 2010 article in The Natchez Democrat, a few months after it opened to incarcerate illegal immigrants detained for mostly low-security crimes.
At that point, it housed more than 2,000 inmates — more than two-thirds of whom were of Mexican descent, although scores of nationalities were then represented.