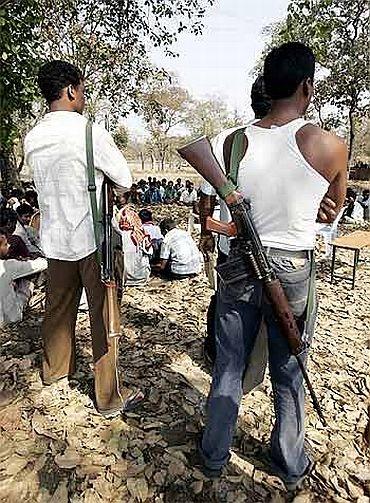 In the past one-and-a-half years, Naxals have destroyed nearly 250 mobile towers across the country. The incidents have occurred in Bihar, Chattisgarh, West Bengal, Odisha Andhra Pradesh and Maharashtra. But there seems to be a method to the madness. Vicky Nanjappa reports.
Mobile towers are probably one of the most used devices to track Naxal movements. An official attached to anti-Naxal operations says that mobile tower signals help them locating Naxals.
"Naxals use mobile technology extensively, and when they make calls, the mobile tower automatically picks up the location. This is one of the major reasons why they have been targetting these towers," says the official.
The latest incident was in Baragada, Ganjam district, Odisha, where Naxals blew up three mobile towers.
In the past, Anti-Naxal forces relied heavily on the inputs from locals. However, it was noticed that the Naxals had more sympathisers, the inputs were never up-to-date.
Things changed though, when Anti-Naxal forces successfully tracked down and killed top Maoist leader Kishenji, with the help of mobile communication.
Following his encounter, the government even started to set up nearly 500 towers in Naxal affected states, which helped them track the Naxal movement to a large extent.
Destruction of a mobile tower also meant that Anti-Naxal forces were unable to communicate with ease, thus leading to disruption in operations. Although, they had alternative methods of communication, destroying a tower meant slowing down of operations, which in turn helped Naxals change their location.
Further, the Naxals also found that it had become difficult for the forces to seek reinforcement during an operation in the absence of a mobile tower.
It was observed that prior to any major attack, the Naxals destroyed mobile towers, so their operation went successfully, because of the absence of proper communication.
In 2007,  only six towers were targetted and this was a time when security forces were relying more on human intelligence. According to figures provided by the Home Ministry, Naxals are destroying at least 4 towers a month, on an overage.
Mobile towers have been targetted the highest in Bihar and Chattisgarh, where the security operations are at the highest.
In 2008, Naxals destroyed 37 towers, while in 2009, the number almost doubled to 66. In the 2010, the number shot up to 70 while in the year 2010 the number went up to 70. In 2011, the estimate is at around 70 towers.
The Union government is aware of this problem and has directed Bharat Sanchar Nigam Ltd to work on a mammoth project to set up mobile towers in as many numbers as possible.
In the first phase, the government would be setting up 550 mobile towers and this number will increase, in the years to come. Security forces say that in the absence of local help, it is the mobile towers which would help them carry out their operations.
http://www.rediff.com/news/slide-show/slide-show-1-seventy-and-counting-why-are-naxals-bombing-mobile-towers/20120105.htm