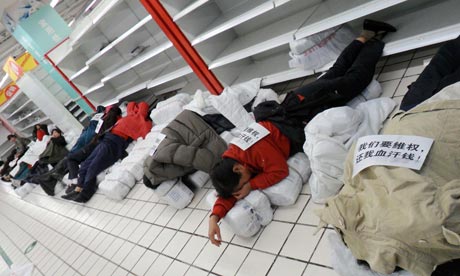 More than 100 workers have blockaded a Tesco in east China, the latest incident in a wave of industrial action in the country.
Staff occupied the entrances and exits round the clock, preventing shoppers from entering, in a protest over wages and redundancy terms, local media reported. Some held a banner saying: "We want to protect our rights. Return our blood and sweat money."
Thousands of factory labourers and others have gone on strike in recent weeks, amid increasing economic uncertainty.
Workers at Tesco in the city of Jinhua, in Zhejiang province, which is due to close at the end of the year, became concerned it would shut earlier after it began discounting goods. They asked management to pay them the overtime they were due and terminate their contracts so they would receive wages immediately, according to Zhejiang Online.
The workers may have been alarmed by previous cases in China where bosses have closed businesses overnight and fled without paying workers.
http://www.guardian.co.uk/world/2011/nov/30/striking-chinese-blockage-tesco-store