Prasanna D Zore
Mollajulla Koteswar Rao alias Kishenji, the Maoist Politburo member who ranked third in the outlawed group's hierarchy, was killed by security forces in Junglemahal, West Bengal on Thursday, November 24.
"Killing 40, 50 or 100 CPI Maoist leaders will not solve the issue. Hundreds and thousands of tribals in these regions now know the power of a gun. They will fight in one form or the other for their rights," Rahul Pandita, author of Hello, Bastar: The Untold Story of India's Maoist Movement recently told Rediff.com's Prasanna D Zore.
"If there were no Maoists tomorrow it does not mean that violence will go away. And that is something the government should worry about," he added.
Pandita, who has been reporting from the Maoist-affected areas of Bastar since 1998, has emphasised in his book the beginning of the Maoist movement in the region after a band of 50 committed people entered the jungles of Bastar, Chhattisgarh, and began to organise exploited Adivasis to demand for their rights.
In an hour-long interview he discussed the idea behind the book, the Supreme's Court order earlier this year on Special Police Officers, the Indian Army's 'footprint' in Bastar and the repercussions if it gets 'actively' involved, why schemes like the National Rural Employment Guarantee Act with the potential to wean away tribals from the Maoist camp have not been able to do so, and the gradual spreading of the Maoist influence to urban areas.
Pandita quotes Maoist supreme commander Ganapathi (Mupalla Laxman Rao) reasoning that when Giridih — a Maoist stronghold in Jharkhand — has fallen, how far could Gurgaon, with its scores of BPO offices, be.
"In fact, they are much closer to Gurgaon than what the government would like to think," Pandita warns.
The Supreme Court passed an order calling the Salwa Judum as unconstitutional or illegal and has asked the Chhattisgarh government to stop funding and arming it. What kind of implications will this order have on Maoism in India, especially the Chhattisgarh government's campaign against Maoism?
This is a very complex issue. It began in 2005 with the Chhattisgarh government arming young men, and calling them Salwa Judum. They were given very basic training in handling arms for two months, and paid a stipend of Rs 3,000 (per month). Because of their basic training they don't have the discipline of a paramilitary force, or the army.
One can only imagine what kind of trouble these half-trained men can cause for journalists, especially reporting out of Dantewada. They stop your vehicle, check inside your car, and more often than not, take away your money at gunpoint.
While the state government has been projecting these special police officers to be a crucial factor in their fight against Maoism, the fact is that since 2005-2011, more than 200 SPOs have died.
These SPOs are soft targets for Maoists. After the Supreme Court order, the Chhattisgarh government will have to disarm them, and provide them with adequate security. This is because once their arms and stipends are taken away, they will have no other option than to go back to their villages.
Once that happens, there is a possibility that they could be massacred by the Maoists.
The government will have to protect the monster that they created.
You have been reporting from Bastar for quite some time now. What has been your experience with these SPOs?
I have had lot of opportunities to report out of conflict areas, so I know better how to deal with SPOs whenever a situation arises. But there have been instances when you are travelling to Chhattisgarh and these guys come out of nowhere, and try to intimidate you or use foul language. Some of my colleagues have had nastier experiences.
Do you fear the Chhattisgarh government will work around the Supreme Court order and let the Salwa Judum continue its work under some other guise or name?
Yes, yes, that is a real fear. In fact, in the past few years that's how they have been operating. The Salwa Judum in the recent past has transformed itself as the Ma Danteshwari Swabhimaan Manch, which was actually a front for the Salwa Judum.
It's like a George Bush-type situation: Either you are with us, or against us.
If any scribe who goes to these areas and reports on human rights violations, or an independent journalist embeds herself/himself with Maoists, they are automatically branded Maoist sympathisers.
Have you ever faced this accusation?
All the time. The state police always brands people who report from Bastar on human rights violations as Naxal sympathisers. Even Arundhati Roy's 33-page essay on the Maoists in Outlook magazine prompted P Chidambaram to remark that if he was given a chance, 'I too could write 33-page articles' instead of focussing on the main problem (Maoism).
Somewhere you see that the whole focus of the government (state as well as central) is to call journalists who report from Bastar Maoist sympathisers. We are not that.
But sometimes, it happens that when you are talking about welfare of tribals in this belt, their human rights violations, it coincides with the Naxal point of view and then you are dubbed a 'Maoist sympathiser', which is very unfortunate.
Now that the Indian Army has set up a base camp near Abujhmarh in Bastar, do you think this has added a new dimension to handling Maoism in India?
The Maoists call this Operation Greenhunt. In the first phase of Operation Greenhunt, 100,000 security forces that include the paramilitary have been stationed in Maoist-affected areas like Chhattisgarh, Bihar, Jharkhand, Orissa etc. But apart from a few successes, these forces have not achieved much in terms of results.
This is not an ideal Line of Control-kind of situation where you go and fight the enemy.
It is not like Kashmir where you are fired upon from one building and you (the security forces) go and demolish the whole building. The terrain in which Maoists operate is a difficult one.
I believe that for the Central Reserve Police Force troops, this is just any other job. But the reality is that a Naxal guerrilla, who is from that area and whose endurance level is much higher, is highly motivated and better trained than a CRPF soldier.
The Maoists who interviewed an SPO told me that the latter told them the training they received was nowhere close to the way the Maoists train.
Coming back to the question of the army, it is now very clear that the central government is trying to involve the army in one way or the other. But they are wary of repercussions from the Maoists.
What it wants to stay instead is that the army has a 'footprint' in the area: The technical jargon they are using for the army's deployment near Abujhmarh. It is just a training facility, and a command centre for the jungle warfare school will be established there.
But what is clear is that in case the Maoists attack this facility, the situation can worsen.
Do the Maoists have the means to attack the facility? And that is, after being fully aware of the repercussions?
The Maoists are smart. They will never touch the army because they know then the army will get actively involved. They know it will be difficult for them to tackle the army, and vice versa.
Like I told you before, it (the forests where the Maoists are based) is a very difficult terrain and the army has no way to tell an ordinary Adivasi from a Maoist guerrilla. So if the army gets involved, there will be lots of human rights violations and the government would not know what to do in such a situation.
For now, the Maoists are smart enough not to touch the army, but they also understand the importance of building psychological pressure. What we have seen is Maoists attacking the SPOs and paramilitary forces, thereby not letting down the pressure on the state's policing machinery while keeping their distance from the army.
Would you have a chance to discuss with Maoist ideologues if at all they have a plan to tackle the army if it gets involved actively in Operation Greenhunt?
Maoist guerrillas, ideologues or the core Maoist leadership does not discuss their plans with others. Having said that, the Maoists know that tackling a full-fledged army will be more difficult than to deal with the CRPF or the local police machinery.
I wouldn't know their strategy, but through guerrilla warfare the Maoists will make sure that more and more people get involved.
For this, they have a large civil militia, then they have about 10,000 hardcore, fully trained People's Liberation Guard Army, and then you have their secondary army who stay with the Maoists, but are armed with rudimentary bows and arrows.
This secondary army numbers run into few hundred thousand people. This is a huge force. That is their first line of defence.
If indeed the army enters Maoist areas, they will have to first encounter this force, which may result in a large number of civilian casualties. And when these casualties get noticed and reported, it would become difficult for the central government to explain these deaths.
Many people believe that Maoism is the product of the utter lack of socio-economic development of the tribals in the Bastar region. Do you think the Maoists would not have existed in the absence of these factors?
Let us look at it this way. It took the government many, many years to realise that the Naxal issue is not a law and order problem. They (the Maoists) are not bandits or terrorists (as the government makes them out to be).
It is 100 per cent a socio-economic problem. Now, we have a band of Maoist ideologues from Jawaharlal Nehru University or some urban areas, who come with a sense of purpose, or are politically and ideologically motivated, and as a result, they may strongly believe in Maoist ideology.
But for an ordinary Maoist guerrilla, words such as corporate, bourgeoisie, imperialism don't mean a thing. For them, life is very harsh. I have been to places in Bastar where families eat once in two days. I had been to Odisha and met a man whose son had died a week ago.
I asked him kaise mara aap ka beta? (how did your son die?) and he said us ko beemari tha (he was ill).
When I insisted upon the reason, he said us ko bhookh ka beemari tha (he suffered from a disease called hunger).
In the 1980s and 1990s, there was lot of oppression against the Adivasis, where a petty government or forest officer would harass them for cutting trees or collecting fruits from the jungles. They would even ask for their livestock (usually a goat and a few chickens), which was usually all they had, to spare them jail time.
Their women would also be raped randomly.
So, consider this: An Adivasi is pushed against the wall, and has nowhere to appeal. So when the Maoists come in the picture, two things happen: first he (the Adivasi) doesn't lead a dog's life. He leads a life of respect and honour, and the women in his household feel secure and protected.
If he joins the Maoists, he knows he will not have to fend against the State machinery on his own, and in the future, the Maoist leadership will take good care of his family.
The slogan for an ordinary Maoist cadre is Dat Kar Khao, Dat Kar Chalo (Eat lots, and walk lots).
For him this is like any other government job with the added benefit of not bartering away the honour of his family.
The whole point of my book is that the issue of violence is not primary. What is indeed primary is the lack of development in these areas. For example, central India, which is mineral rich and predominantly inhabited by tribals.
Unless we bring development to these areas, the problem will never go away.
Thousands of tonnes of food grain is rotting away in government godowns, and we don't have a robust food distribution system by which we can ensure that the people of this country don't go hungry.
What kind of governance are we talking about?
'What are we doing for the welfare of the CRPF soldier?
It is this tone which gets people dubbed Maoist sympathisers.
As an independent journalist, I know what I speak is the truth and based on the ground reality.
When I go to Bastar and I see security forces committing human right violations, I write about it.
When I see a young girl who cannot go to school because the Maoists won't allow the bridge to be built across a river, I write about that as well. Both these things reflect in my reports.
It just happens that sometimes my point of view coincides with the Naxals' point of view.
But let me tell you a story.
I was speaking to an IAS (Indian Administrative Service) officer a couple of years ago, and he said he agreed with 39 out of 40 Maoist demands. He said he agreed with these 39 demands because these are what are already guaranteed to the people of this country by the Constitution.
"Right to Food, Right to Health, Right to Education, so what is wrong with these demands?" he asked.
There is also a group of peole that alleges you write about human rights violations of tribals and Maoists, but don't report when human rights of the CRPF jawans are violated when the Maoists torture them, or behead them.
I think that is a valid argument, and as a journalist I have extensively reported on these things. In my last book I wrote about torture perpetrated on ordinary people in Maoist-affected areas in Lalgarh.
Let us not have an inkling of doubt in our mind that the Maoists in India have a political agenda, and they will use any brutal force to achieve their goals.
However, the government should also ponder as to why is the CRPF jawan being killed there?
When you put a jawan in these areas, he is hardly equipped to take on the Maoists.
Look at the poor infrastructure at any of the CRPF camps. What are we doing for the welfare of that CRPF soldier?
Last year five CRPF soldiers were killed in the wee hours of the morning because they were ambushed when they went out to answer nature's call.
Shouldn't CRPF camps have basic toilet facilities?
Though thousands of crores (hundreds of thousands) of rupees have been sanctioned to take care of these things, government officials siphon off the money.
Sometimes I also travel with CRPF soldiers for reporting purposes and you must look at the deplorable conditions that they live in.
An CRPF jawan wakes up at five in the morning, starts walking with just two bottles of water that get finished in just two to three hours of duty in a hot month like May or June.
When he returns from patrol after a long day, the camp does not even provide him with a table fan. That is the kind of facility we are talking about.
In Jharkhand, CRPF camps have generators, but there is no diesel to run them.
In remote areas when a soldier is ambushed there are no helicopters to airlift him and provide him basic medical care. These very choppers are used by politicians for their personal use.
When the government treats its own soldiers like this, what can you expect from the Maoists?
'I want people to understand what the issue is all about'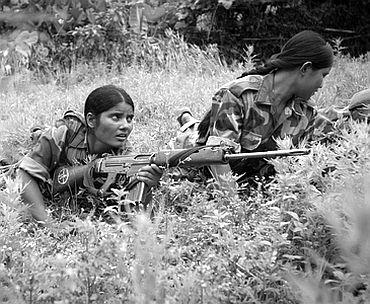 How did the idea of Hello Bastar originate?
I have been covering Maoist insurgency since 1998. Every journalist worth his salt would then go to Kashmir because Kashmir was the hub of insurgency at that time.
At that time I traveled through Bastar. I would always feel that something very challenging would happen in these areas in the next few years.
Later these problems became so serious that it prompted the prime minister to call it the country's biggest internal threat.
When I read about Maoist insurgency, it always surprised me that everybody wrote mostly about the 1967 Naxalbari revolution. Most of the literature that I read was so dull and drab, that it would read like 'party literature.' I used to joke about it often.
Senior Maoist ideologue Kobad Ghandy was arrested in Delhi in 2009, and his arrest got a lot of coverage because he was born and brought up in an elite environment: he had studied at Doon School, he was a classmate of Sanjay Gandhi, his father was a big shot with a big pharmaceutical company, he lived in a 4,000 square feet house in Worli (central Mumbai).
Why would he get attracted to the Maoist ideology? He could have had any cushy job in this world. But instead he chose the rigours of a harsh life, sweating it out in the jungles of Bastar.
So I think that perception (about Maoism in India) began to change (with Kobad Gandhy's arrest). At that point in time I had already started working on this book. I thought I should at least tell the story of the modern Maoist movement when these 50 unheard of people entered Bastar.
Who were these people, from where did they enter this region, what challenges they faced, what was Bastar's socio-economic condition at that point of time, how did they start organising the Adivasis, where did they get money to fund their activities… that intrigued me.
This book is not meant for an academic, but for an ordinary reader who reads a newspaper headline and often wonders what is happening in the backyard of the country. This book is meant for that reader and a lot of storytelling is done in simple language.
I hope a lot of people read it and understand about what the whole issue is all about.
Is it really the untold story of Maoists in India?
Nobody has talked much about the socio-economic conditions in these areas (where the Maoists are influential) that led to the strengthening of the movement in India.
What happened when Kondapalli Seetharamaiah (who later became the supreme commander of the Communist Party of India-Maoist) went to Dandakaranya with a handful of supporters?
What happened there at that point in time? How did they build a base there? You are talking of a whole canvas (of issues) of which not much (public) information is available.
(Nobody knows much) of Kobad Gandhy or his wife Anuradha who apart from doing party work changed the lives of hundreds of ordinary people.
I was witness to that change. They helped the poor in that region hold their head high.
'The perception about Maoism has changed'
You have dedicated one entire chapter to Anuradha Gandhy. Why not have a chapter on the life of a Maoist guerrilla? Is Anuradha Gandhy more interesting than a Maoist guerrilla?
No, it's not that. Anuradha's story is more striking. An ordinary Adivasi tribal lives in that world of exploitation. For example, a girl like Tarakka (who is mentioned in the book) who saw exploitation firsthand. One can almost expect her to join the Maoist movement. But someone like Anuradha, who is essentially from a middle class background, to be moved by the plight of these hapless Adivasis?
I have been witness (after her husband Kobad Gandhy's arrest), to ordinary people talk about Maoism, talking about Kobad, and what drew him to India's tribal heartland.
Something has changed. Over the years, I also think the perception (about Maoism) has changed.
Earlier, when I used to meet my friends from pink (the business) newspapers they would always tease me after reading my reports from Bastar that arre tu toh yaar Maoist propagandist hain (you have become a Maoist propagandist). That image has changed now.
Now people think that it is about poverty, hunger, deprivation, exploitation and structural violence, and violence does not just mean killing or harming people. It also means denying them the basic necessities of life.
I have seen 70-year-old men toiling away. When I asked them about it, they said they were working under the NREGA scheme. When asked if they get money for their work, the answer was no. They had been toiling like that for two months, without pay, and that too for a government-sponsored scheme.
Ask them if they have a job card, the answer was that it was with the village head.
In that sense, is NREGA a big fount of corruption as well, like the 2G scam?
I don't want to compare it with 2G, but NREGA as a social scheme has a lot of potential.
Does it have the potential to wean away Adivasis away from Maoism?
Absolutely. But unfortunately, there is corruption on a high-level in NREGA. The ineffectiveness is blamed on Naxal guerrillas, who are opposed to construction of roads, bridges, schools and hospitals in their respective areas of influence (under the fear that they could be used by security forces against them).
I have never seen a Naxal oppose government officials from implementing social security schemes like NREGA.
'Tribals in these regions know the power of a gun'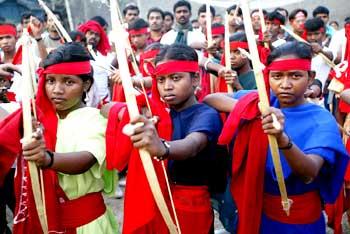 Do you think implementation of the Unique Identification Number scheme will help stop corrupt practices employed by local contractors who pay NREGA money to the labourers?
Not really. The local exploiters will find other means of exploiting the government's social schemes and still siphon off money.
It is so unfortunate when our policy makers say they have made arrangements for NREGA money to be given to workers at a post office.
They have no knowledge that these workers don't even have the money to make the journey to the post office.
Sitting in Delhi with all kinds of maps is very different from actually going to these areas and finding out how difficult it is for NREGA workers to get the money disbursed by the government.
There is no foolproof mechanism and that is what encourages the corrupt to rot the system for their interests.
Do you think the government is serious about tackling the issue? The government talks about socio-economic development of the affected people, it looks like it is doing nothing.
Do you think it is doing so to fuel upper and middle class insecurities by raising the bogey of Maoism?
In that sense, can one say that the government is encouraging factors that are conducive to the growth of Maoism but within a limited footprint?
I wouldn't go that far, but the government lacks the political will to tackle these issues by doing the right things.
I think in certain cases it suits the government or certain sections in the government because it lets them take land away from the tribals, allow rampant and illegal mining, since some politicians have stakes in mining companies.
Look at the land allotted to Vedanta University in Odisha. Even Harvard University will not ask for that much land. What does this imply? The politicians have sold their souls to Vedanta?
Your book claims that the condition of the tribals has improved perceptibly after the Maoists entered Bastar. Are there any studies that conclusively prove that their health, social and economic conditions have improved?
No, there are none.
So how can one believe that conditions have improved under the Maoists?
It is very difficult. But in various pockets across the region, there is visual improvement.
Tribals get ample food, cooperative societies provide them with various employment opportunities, there are health units that deliver medicines against diarrhoea, cholera and malaria.
In that sense, a lot of work has been done, but saying that the Maoist movement has altered the way of life (of Adivasis) in a very significant way will be too far-fetched.
But their presence has given a large swathe of Adivasis a sense of political empowerment, dignity and self-respect.
That is why I keep telling the government that killing 40, 50 or 100 Maoist leaders will not solve the issue.
And thousands of tribals in these regions know now the power of a gun. They will fight in one form or the other for their rights.
If there were no Maoists tomorrow it does not mean that violence will go away. And that is something the government should worry about.
The Maoist economy is close to Rs 200 crore'
How close were the government and the Maoists to a meaningful peace resolution before the alleged fake encounter last year where Maoist leader Azad (Cherukuri Rajkumar) was killed?
At that point in time the Maoists were very serious about giving peace a chance and negotiating with the government. Azad, a very senior leader of the Maoists, was carrying with him a letter from Swami Agnivesh to the Dandakaranya Special Zone Committee, for the final consensus before he was shot dead in cold blood in a fake encounter.
So, if Azad would not have been murdered, at least, I hope, there was a chance of peace talks going ahead. It would have, at least temporarily, stopped the whole cycle of violence between the two parties.
When everybody knew there were talks between the government and the Maoists, do you think there were vested interests which didn't want the Maoists and the government come to the negotiating table?
I spoke to Swami Agnivesh and he was very clear that he told the home ministry that Azad would be representing the Maoists, and yet he was murdered in cold blood.
I am sure there were people (in the government) who didn't want peace negotiations to happen.
There are also talk of the Maoists collecting money from corporates to let the latter operate without any problems in there respective areas of influence. How true are these charges?
Such reports have been coming in on and off from various credible sources.
How do the Maoists fund their movement? And how deep are the connections between them and the insurgents in the northeast and the LTTE (Liberation Tigers of Tamil Eelam), Nepal and China?
The Maoists run a very well-oiled economy. Most of their funds do not come from mining or corporates. Most of their funding comes from a levy in their area of dominance.
The government contractors who undertake construction activities in these areas have to pay this levy to the Maoists, in order to carry out their businesses in an uninterrupted way.
As far as their links with various insurgents the Maoists had no association with the LTTE. A splinter LTTE group came to them in the 1990s to impart training, but that was that.
Also, the Maoists have no links with Islamic terrorists that the common man is often led to believe.
The government is also trying very hard to show linkage between Maoists and groups in the northeast. I think there is some sort of symbiotic or working relationship with groups like the NSCN (National Socialist Council of Nagaland) and ULFA (United Liberation Front of Asom), but nothing beyond that.
How big could this Maoist economy be?
It's very difficult to say that, but rumours put this figure at Rs 100 crore, Rs 200 crore.
The day is not far off when the Maoists will be entrenched in urban areas'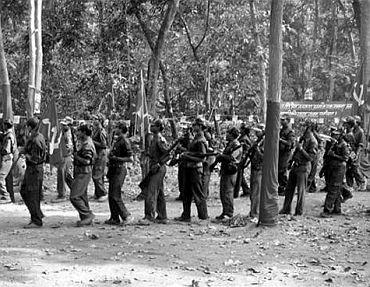 How well-entrenched are the Maoists in India's urban centres?
Let me put it this way: The Maoists' urban agenda and planning is very strong, but in practice, it's very weak. That is why if you look at the pattern of Maoist leaders either being arrested or killed, almost all of them have happened in urban areas.
This is because they don't have a strong base in urban areas, and so the intelligence agencies can sneak into their operations as was seen in the case of Kobad Gandhy, Azad and many others.
However, there are some urban areas where they have lot of influence. I can tell you that during the Commonwealth Games when thousands of people were displaced, it offered the Maoists a readymade constituency and they are working on further strengthening their influence in urban areas.
They were present in the Khairlanji agitation, in Nandigram and Singur.
Though they are still very weak in urban centres. But going by the government policies, I think the day will not be far off when they will be entrenched in urban areas too. In fact, they are much closer to Gurgaon than what the government would like to think.
This question is based more on hearsay than anything concrete that the Maoists betrayed Kobad Gandhy? Would you believe this?
Not at all. Not at all.
Like there is talk the Maoists abandoned Kondapalli Seetharamaiah as well…
No, no. Seetharamaiah had grown old, senile. So they took him to Bastar to look after him. He died at 87, in Hyderabad.
How democratic is the Maoist movement? Do the orders come top-down or do they take collective decisions?
It's like any other Communist party. Most important decisions are taken by the central committee and the politburo. Discussions are allowed during a party Congress.
The last such Congress was in 2007, in the jungles of Bihar. So discussions and debates are allowed in the party, but ultimately it is the decision of the central committee that prevails.
http://www.rediff.com/news/slide-show/slide-show-1-killing-maoist-leaders-will-not-solve-the-issue/20111125.htm