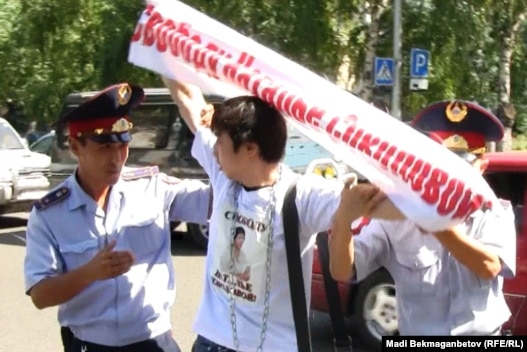 ZHANAOZEN, Kazakhstan — One of the leaders of a strike by oil workers in western Kazakhstan has been shot in an apparent rubber-bullet attack, the latest in a string of similar assaults on strikers or journalists covering the walkout, RFE/RL's Kazakh Service reports.
Estai Qarashaev told RFE/RL that he was summoned on October 26 by local police in the town of Zhanaozen who questioned him about his role in the ongoing oil-worker strike. Qarashaev said the police asked him to persuade the strikers to stop the strike and accept the conditions offered by their employers and the local government.
"When I returned home from the police station, a man attacked me in the corridor of my apartment block. He beat me, and when I started resisting the attack, he shot me and I passed out," Qarashaev said. "When I regained consciousness, I called the police and they found a rubber bullet at the scene."
Qarashaev went to a hospital for medical treatment and then returned home. Local police told RFE/RL they had opened an investigation.
Also on October 26, two journalists from the independent Stan-TV online television company were attacked with baseball bats, and one of them was shot at with a rubber bullet, in the capital of Manghystau Oblast, Aqtau.
The journalists, Orken Zhoyamergen and Asan Amilov, have been covering the oil-worker strike since it began.
http://www.rferl.org/content/striking_kazakh_oil_worker_attacked/24373227.html