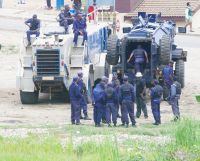 MANZINI – Even though public transport was flowing freely yesterday, there were sporadic scenes of confrontation between police and public transport workers.
In most instances, the confrontations did not last more than five minutes as police swiftly calmed the situation.
The mere sight of the police officers who were clad in riot gear seemingly brought fear to the potential protesters.
There was heavy police presence near the bus terminus and on the outskirts of Manzini. As the day progressed, police were seen seated in groups while others shopped around. At around 8am, some people posing as kombi conductors and drivers pelted buses with stones near Mhlaleni and Logoba. However, the quick intervention by the police who dispersed the rowdy crowd saved what could have turned into a nasty situation.
Towards lunch time, some conductors who service the Mobeni/Matsapha route also caused a scene at the bus rank.
The conductors threatened not to allow passengers to board their vehicles, but members of the Swaziland Local Kombi Association (SLKA) intervened.
SLKA Secretary General, Sabelo Dlamini confirmed that they had to act fast before the situation got out of control. "I also heard about the issue at Mhlaleni. We do not believe it was our employees who were causing havoc there, but some individuals who have other unknown motives," Dlamini pointed out.
Police Public Relations Officer Superintendent Wendy Hleta also confirmed that some people threw stones at buses near Mhlaleni.
"When the police arrived at the scene, they found that the culprits had disappeared," the police spokesperson said. She added that police also acted promptly when public transport employees started whistling at the bus rank. According to conductors, whistling is a form of communication at the bus rank that indicates something is about to happen.
Hleta pointed out that there were no further scenes of violence, adding that everything was under control.
She said there were no arrests made yesterday.
http://www.times.co.sz/News/33591.html