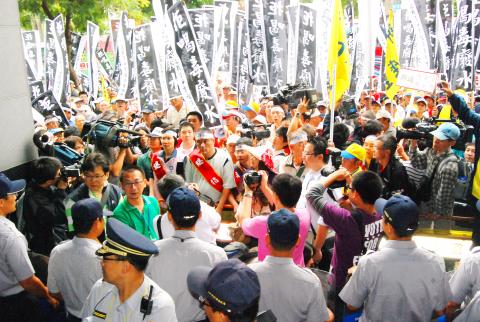 More than 1,000 people from Hsinchu and Taoyuan counties staged a demonstration outside the Environmental Protection Administration (EPA) in Taipei yesterday, protesting the dumping of toxic wastewater by two LCD manufacturers into a river designated for irrigation and drinking, a practice that continued even after the two plants were told not to do so.
"We refuse to drink toxic wastewater! We want our clean Siaoli River (霄裡溪) back!" shouted angry residents from Sinpu Township (新埔) and Jhubei City (竹北) in Hsinchu County and Taoyun County's Longtan Township (龍潭).
Although the source of the Siaoli River is in Longtan, only a few hundred meters of the upstream section of the river is in Taoyuan County, while most of the river flows through Sinpu and Jhubei before joining the larger Fengshan River (鳳山溪).
Siaoli River is classified as a "class A" river, and is designated for irrigation and potable water use for Hsinchu City and parts of Hsinchu County.
However, in November 2001, Taoyuan County issued permits to LCD manufacturers AU Optronics Corp (AUO) and Chunghwa Picture Tubes for their factories in Longtan to dump wastewater into the Siaoli River, instead of the Laojie River (老街溪), which is a "class C" river that is allowed to be used for the dumping of processed wastewater.
The two factories are located on a hill on the Taoyuan County side of the border between Taoyuan and Hsinchu counties. The hill is bordered by the Siaoli River, which flows into Hsinchu County, on one side, and the Laojie River, which flows deeper into Taoyuan County, on the other side.
"The decision by the Taoyuan County Government to allow wastewater to be dumped into a class A river instead of a class C river is totally illegal," Democratic Progressive Party Legislator Peng Shao-chin (彭紹瑾) said at the demonstration.
The EPA's environmental impact assessment meeting has made conclusions in 2002, 2007, 2009 and this year that the Taoyuan County Government should withdraw the permit for the two LCD manufacturers to dump wastewater into Siaoli River, while the Control Yuan has asked the Taoyuan County Government to correct the decision.
"The water from the LCD plants is polluted — it is high in phosphor, it is not good for irrigation and it is not good for drinking, but the water processing plant in Jhubei continues to get [polluted] water from the Siaoli River," Longtan's Sanhe Village (三和村) chief Hsieh Chin-chi (謝金棋) said. "About 200,000 people live on the water of the Siaoli River, and the problem has persisted for about 10 years. We want a solution right away."
Minister of Environmental Protection Stephen Shen (沈世宏) initially declined to meet the protesters, prompting them to block the 10-lane Zhonghua Road in front of the EPA.
Protesters first blocked the outer lanes, but gradually walked onto inner lanes and bus lanes, forcing scooters, cars and buses to turn around, back up or change lanes.
Police officers on the scene tried to stop the protesters, but they were unable to do so because they were outnumbered.
http://www.taipeitimes.com/News/taiwan/archives/2011/09/23/2003513982