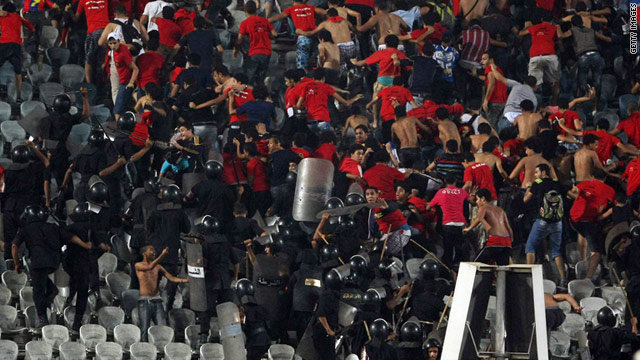 CAIRO: Injuries following the Tuesday clashes between security forces and al-Ahly club fans has risen to 130 people, including some in "unstable" condition, the ministry of health said.
Police forces and anti riots-soldiers chased after the fans beating them outside of Cairo stadium late on Tuesday. Police said the fans "insulted" them, hence the soldiers were provoked to attacked the fans, the interior ministry said.
The fans had been chanting anti-ministry of interior and anti-ousted president Hosni Mubarak slogans that the police found insulting.
14 police cars and 2 motor bikes were vandalized during the clashes and 12 people were arrested. Videos posted by eyewitnesses showed police brutality towards the crowds who were running in panic trying to exit the stadium.
Al-Ahly club website reported that one fan had died, which was not commented on by officials.
Tens of people headed late Tuesday night to Tahrir Square to protest the violence, only to find security on alert there, with tens of armored cars and hundreds of policemen surrounding the iconic square.
The fans's Facebook page released a statement condemning police violence against the fans and promised to join the planned demonstration on Friday dubbed "putting the revolution back on course" that stands against military trials of civilians and the unmet demands of the revolution.
The Facebook group said if the news about the dead fan turns out to be true they might escalate their protest against the police.
Other popular pro-change movements such as 6 of April have also condemned how the police reacted to the fans denouncing the "official violence against civilians." The group said that the violence "takes the country back to what it was pre-January 25."
The group also demanded that minister of interior Mansour al-Esaway order an investigation into the clashes and to penalize all officers and soldiers who were involved in the violence against the fans.
Egyptians have enjoyed a shaky relationship with the police since the Egyptian revolution earlier this year after police forces opened fire at protesters killing at least a 1,000 people and injuring thousands more.
Ousted president Hosni Muabark and his former minister of interior and 6 of his top aides from the ministry are currently facing trial for ordering the killing of the protesters.
http://bikyamasr.com/41449/update-police-violence-leaves-130-injured-one-possibly-dead/