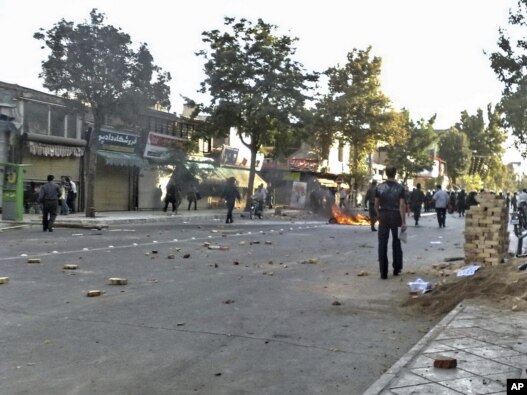 Lake Orumieh, one of the world's largest saltwater lakes, has shrunk by some 60 percent in recent years due to drought and misguided development policies. Environmentalists warn that unless something is done, the lake will disappear forever.
This dire prospect has put locals who depend on the lake on edge. And seeing as the lake straddles the border of Iran's East and West Azerbaijan provinces, centers of the country's ethnic Azeri population that have a rich and volatile history of protest against Tehran, the central government is on edge too.
Tensions over the lake's falling water levels boiled over last week, after parliament, the Majlis, decided against local lawmakers' proposed fast-track solution to the problem in an August 17 vote. Scores of locals took to the streets of Orumieh (aka Urmia) on August 27, and open conflict with security forces ensued.
And what might have been heard loudest by the authorities — already sensitive to any signs of a return of the large-scale protest that followed the country's 2009 presidential election and wary of any outward signs of ethnic discord in the country's Azeri regions — were chants like these: "Azerbaijan rise up and cry out," and "If Azerbaijan doesn't rise up, it will lose."
'Numerous Injuries, Arrests'
The protest was met with force by security forces, who reportedly used rubber bullets and tear gas to disperse the crowd. Videos purportedly from the protest that were posted on YouTube show activists throwing stones, and antiriot forces firing back.
Yashar Hakkapour, a Canada-based human rights activist, tells RFE/RL's Radio Farda that he heard reports of numerous injuries and arrests among protesters. "Local sources informed us that some of the people were injured because the special forces attacked them with batons," he said.
A protest planned the same day in Tabriz, the capital of East Azerbaijan Province that lies 80 kilometers east of the lake, never materialized
An eyewitness told RFE/RL that security forces prevented citizens from expressing their concerns over the state of the lake, and at least three people were detained.
http://www.rferl.org/content/dying_lake_revives_iran_protests/24314925.html