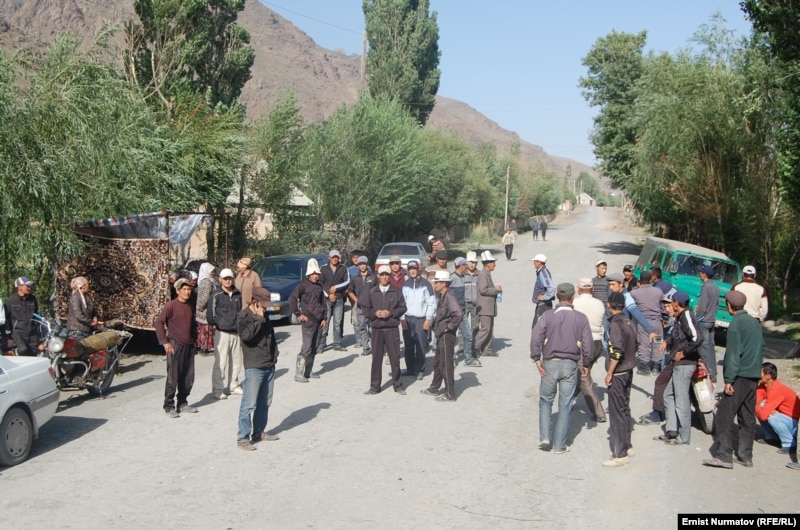 NARYN, Kyrgyzstan — Officials in northern Kyrgyzstan are investigating the recent beating of three Chinese workers and three policemen at a gold mine, RFE/RL's Kyrgyz Service reports.
Naryn regional Governor Kanatbek Muratbekov told RFE/RL that several suspects in the case were questioned on August 30.
On August 26, some 300 people gathered outside the headquarters of the Chinese-operated Solton-Sary gold mine, assaulted three policemen who tried to persuade them to disperse, and then beat three Chinese miners.
Muratbekov said that on September 3 Mineral Resources Minister Zamirbek Esenamanov and managers from the KyrgyzAltyn (KyrgyzGold) state company at Solton-Sary will meet with locals to explain the procedure for granting licenses to foreign companies to operate mines in Kyrgyzstan.
Locals have opposed the Chinese-operated mine operation in Naryn, accusing them of ignoring environmental standards and poor treatment of Kyrgyz workers.
The government discussed the issue on August 29.
Prime Minister Almazbek Atambaev said during the discussion that foreign investors' security should be guaranteed. He also urged the government to make more transparent the process of issuing licenses for foreign companies operating in Kyrgyzstan.
The protest against the Chinese-operated gold mine on August 26 was the latest in a series of demonstrations in recent months against Chinese companies operating in Kyrgyzstan.
Chinese Ambassador to Kyrgyzstan Wang Kaiwen told journalists in Bishkek on August 29 that unnamed political groups may be behind recent protests against "foreign investors."
Wang noted that some protesters demand that the licenses given to Chinese companies working in the mining sector be withdrawn. He argued that investors' interests should be taken into account as well.
Wang expressed concern at what he termed the "poor protection of foreign investors' interests in Kyrgyzstan."
http://www.rferl.org/content/kyrgyzstan_officials_probe_attacks_at_chinese_operated_gold_mine/24313312.html