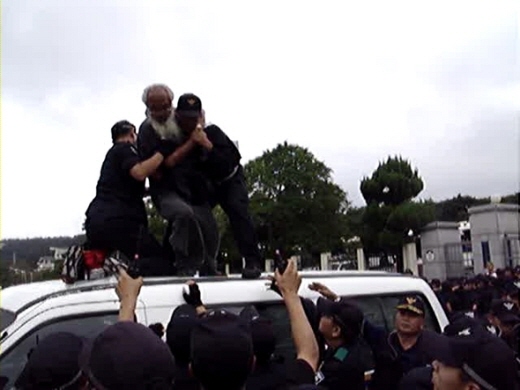 On Aug. 25, Seogwipo Police Station in Jeju Island applied for arrest warrants for Gangjeong Village Mayor Kang Dong-kyun and two other people on suspicion of obstructing work at the construction site of a naval base at the village. They also detained and investigated Father Moon Jung-hyun, who protested the applications.
At around 2 p.m. on Aug. 24, Kang saw the contractor attaching caterpillars to a large crane at the construction site, and clashed with police in the process of obstructing this.
Police attempted to put Kang and others in a van and take them away, but around 100 local residents and activists from civic organizations surrounded the van and blocked its path with other cars, leading to a standoff of more than seven hours on the road out of Gangjeong Village. Police mobilized two riot squadrons and more than 350 employees from Seogwipo Police Station, but were unable to arrest Kang.
Moon Dae-lim, speaker of Jeju Special Self-governing Provincial Council, stepped in as an arbitrator at around 9:30 p.m. on the same day, and it was agreed that police would release Kang and the others before midnight if they cooperated with the police investigation. Accordingly, the police took Kang and the others to Seogwipo Police Station at around 10 p.m. and questioned them for more than one and a half hours before handing the case to prosecutors together a recommendation that the men be released. Prosecutors, however, did not accept the recommendation.
When arrest warrants were applied for Kang and the others at around 1:45 p.m. on Aug. 25, Father Moon resisted attempts to transfer them to Jeju Dongbu Police Station, engaging in a strong protest that included climbing onto a police vehicle that was coming out of Seogwipo Police Station. He was then taken away and questioned. In June, Father Moon changed his registration, becoming a resident of Gangjeong Village, and has been struggling to oppose the building of the naval base.
At an executive meeting on the morning of Aug. 25, Korean National Police Agency (KNPA) Commissioner Cho Hyun-oh issued criticism that police moves to take away Gangjeong villagers had not been managed properly. Just half a day later, Cho transferred Song Yang-hwa, head of Seogwipo Police Station, to a position in charge of hearings and investigations at Jeju Provincial Police Agency as part of a reshuffle.
http://english.hani.co.kr/arti/english_edition/e_national/493480.html