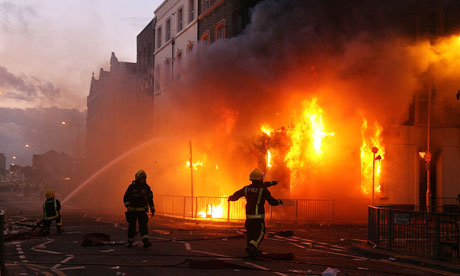 The riots in London have led to nearly 2,000 arrests with under half that number charged with offences, Scotland Yard said.
In total, there have been 1,875 arrests with 1,073 people charged for offences in connection with the disorder.
Police have recorded more than 3,000 offences, including 1,101 offences of burglary in non-residential buildings, 95 cases of handling stolen goods and 48 reports of serious wounding.
A Metropolitan police spokesman said: "There were 3,296 reported total notifiable offences linked to the disorder that occurred across London between 6 and 9 August."
Here is a breakdown of the offences:
Arson: 162
Assault with injury: 80
Burglary in a dwelling: 48
Burglary in other buildings: 1,101
Robbery of business property: 102
Common assault: 32
Criminal damage to a dwelling: 70
Criminal damage to a motor vehicle: 399
Criminal damage to other building: 280
Drug trafficking: 4
Going equipped: 8
Handling stolen goods: 95
Harassment: 43
Motor vehicle interference and tampering: 4
Murder: 2
Offensive weapon: 39
Other criminal damage: 90
Other fraud and forgery: 1
Other notifiable: 110
Other theft: 45
Other violence: 49
Robbery of personal property: 310
Picking pockets etc: 3
Possession of drugs: 58
Serious wounding: 48
Snatches: 36
Theft from a motor vehicle: 42
Theft from shops: 17
Theft/taking of a motor vehicle: 10
Theft/taking of pedal cycles: 8
Total: 3,296
http://www.guardian.co.uk/uk/2011/aug/21/uk-riots-nearly-2000-arrested