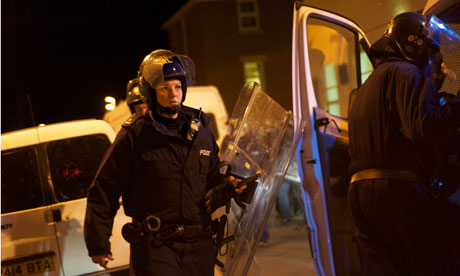 Teenagers were still taking pictures of the smouldering debris on Gloucester's Barton Road at 5am on Wednesday, wide-eyed in disbelief.
None had thought that television pictures of riots in major cities such as London, Birmingham, Manchester and Liverpool would spread to their quaint home town near the Welsh border .
Looking dazed, Nathan Phillips, 17, described the moment he realised Gloucester would be next.
"We were stood outside our friend's house. A person with a balaclava came out, and then he walked away. He came back with his friends, and they had hoods pulled tight over their heads. Then they chucked three bricks at the police car."
The officer inside, he said, was struck by one brick. "He just turned on the engine and sped off."
What followed, according to witnesses still around to relay events as dawn broke, was a series of running battles with the police along Gloucester's narrow terraced streets. Riot police were drafted in alongside officers on horseback as they tried to quell the violence.
The disorder in the town, which began around 9.30pm on Tuesday and continued into the early hours of the morning, was smaller in scale than the widespread looting and running battles elsewhere in England.
Witnesses said the crowd of rioters consisted of around 50 youths, from young teenagers to men in their 20s.
Unlike far larger cities such as Nottingham, which appears to have seen hundreds of shops targeted overnight, In Gloucester there were attempts to break into less than a dozen local stores and glass-fronted betting shops. There was an unconfirmed report that a pet shop was targeted.
But the reaction through the night to the news to a blazing fire and rioting in Gloucester suggested that while smaller than elsewhere, the disturbance heralded something symbolic: evidence that the spreading violence could take hold in a cathedral city with a population of less than 150,000.
As one policewoman said guarding the burned out shell of a derelict building set on fire on Brunswick Road: "It's madness. No one can understand it."
It was that fire – in a derelict building beside a college near the centre of town — that appears to have marked the start of the disturbances.
The mode of inciting the violence was the same in Gloucester as it has been in large cities: broadcasts via BBM – or BlackBerry Messenger.
One message disseminated shortly after the fire started informed local teenagers "the riots have begun, windows smashed, bike wheels taken, mandem pullin out bats n pitbulls everywere, BC this to show respect for the rioters! Join in !"
Youths were then seen to congregate nearby, but riot police chased the groups south and east, into Tredworth Street and, later, Barton Road.
Leon Davis, 17, witnessed one of the few incidences of looting, when youths broke into a newsagent. "They kicked the front door in and ran out with alcohol, newspapers and fags," he said.
He and other friends said that they had been receiving BBM messages since Monday suggesting Gloucester would be attacked, but they did not believe it could happen.
Davis showed one BBM on his phone, received at 7.10pm on Monday. It said: "7pm primark glosta riot begins! Pussys stay at home! Bad man dnt come alone. Tell a fren to tell a fren!"
"I thought they were joking," said Davis. "Now the bookies has no front windows – and the shop opposite has no windows."
Dale Millar, 26, who spent the night photographing the disorder, showed images of teenagers hurling dustbins at shop windows and police, who had trapped them in Barton Street.
"I saw missiles – bottles and rocks. They were everywhere." When asked what was the worst moment of the night, he replied: "I heard one little kid, 17, shout out 'I done my job today, I hit a police officer'." .
Police were out on the street still in force as dawn broke, with vans parked beside upturned bins and smashed glass.
Darakel Robinson, 17, who said he was saddened by the violence, stood on one street corner surveying the scene when his BlackbBerry beeped with the latest message.
It arrived at 4.50am, and apparently came from another Gloucester youth. "I'm at mine nw.. It all happening agen 2mar this time the shop r gunna get dne over apparently."
http://www.guardian.co.uk/uk/2011/aug/10/uk-riots-gloucester-disorder