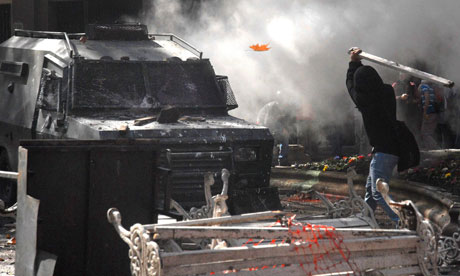 Violence erupted on the streets of Chile's capital and other cities as tens of thousands of students staged another protest demanding changes in public education.
Masked demonstrators burned cars and barricades, looted shops and threw furniture at police in Santiago on Tuesday. Some attacked an apartment building, throwing rocks and breaking windows. Riot police used tear gas and tanks with water cannons to push them back.
By nightfall, at least 273 protesters were detained, including 73 in Santiago, and 23 police officers were injured, said Rodrigo Ubilla, a deputy interior minister.
Five days after a banned march ended in nearly 900 arrests, students and teachers marched peacefully in Santiago and elsewhere in Chile on Tuesday, calling for the government to increase spending on schooling and provide "free and equal" public education.
As in previous demonstrations, protesters danced, sang, wore costumes and waved signs. But then groups of masked protesters split off and tried to break through police barricades blocking the way to the presidential palace.
University of Chile student president Camila Vallejos said 150,000 marched on sidestreets in the capital because the government denied them permission to march on the main avenue. Ubilla estimated that between 70,000 and 80,000 marched in Santiago.
Vallejos said the huge showing so soon after last Thursday's confrontations "reaffirms the level of approval we have and that the people keep supporting us. It's the government that isn't capable of conceding".
The interior minister, Rodrigo Hinzpeter, said the violence shows student leaders can't control their demonstrators.
As the day wore on, the violence spread, with hooded and masked activists throwing rocks, paint, furniture and street signs at police backed by armoured vehicles.
The unrest has gripped Chile for more than two months.
http://www.guardian.co.uk/world/2011/aug/10/chile-riot-student-protest-violence