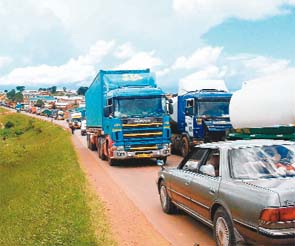 The Nakonde border in Northern Province has been temporarily closed following a strike action by striking Tanzanian truck drivers who have became violent this morning.
There was tension at the border post as the irate drivers ran amock bringing business at both Tunduma and Nakonde border to a stand still. They set even attempted to set on fire a fuel tanker belonging to one of the companies in Tanzania carrying fuel destined for Zambia .
However, quick action by the Zambia Police and their Tanzanian counterparts saved the fuel tanker from being set on fire. The tanker has since been escorted by armed Zambia police officers and it is parked at Nakonde police station.
The strike action by the Tanzanian truck drivers which has entered day-4 today failed to be resolved yesterday during a meeting addressed by the Mbeya Region minister John Mwakipesile at Tunduma border in Tanzania yesterday afternoon.
Paramilitary police officers in both Zambia and Tanzania are keeping vigil as striking drivers stand in groups possibly planning the next move.
The chanting drivers said their strike action can only be called off after their grienvances have been met in full.
The international drivers are now demanding to be addressed by the Tanzanian Republican President Jakaya Kikwete or his vice president saying their issue is very serious and should be addressed by senior Government officials and not regional officials.
They have vowed to continue with their strike action saying time has come for them to speak and demand for what is right and good for them. One of the drivers, Musa Mwaiseki said their issue needs serious people to sort it out.
Mwaiseki said no amount of threats would stop them from demanding for what is due to them. He said all what the drivers are demanding for is an increased salary and improved conditions of services.
Yesterday striking drivers told ZANIS they will continue with their strike action until their demands are met in full. Joseph Johns said they have decided to go on strike because they have suffered for a long time adding that it is high time that they are given what is due to them.
Johns said the transporters are given enough money by the owners of the goods but give their drivers very little. "We have all the information concerning how much our employers are given because we have managed to access some contract forms between our respective companies and the owners of the goods we are carrying to either Zambia or the Democratic Republic of Zambia (DRC) and we just wonder why they give us very little,"said Johns.
The strike action has affected revenue collection by the Zambia Revenue Authority (ZRA) and the Road Transport and Safety Agency (RATSA) offices at Nakonde.
Yesterday one of the drivers Mohammed Aziri told ZANIS in an interview at Tunduma that they have agreed as drivers not to resume work until all their grievances are met.
Aziri said truck drivers are demanding for increased salaries and improved conditions of service. He said Tanzanian truck drivers were the least paid in the region adding that drivers are also demanding for risk allowance to be paid to each driver before goods are loaded onto the trucks because some of the goods they carry are highly risky though no risk allowance is given to the driver.
Muhammed Aziri said other drivers in the region like the South Africans are always given risk allowance but wondered why Tanznian transporters can not give the same allowance to its drivers. The truck driver also complained that the travelling allowance given to them in Tanzanian shillings is not enough because they have to change the money to other currencies depending on their destination.
Another driver Ali Mohammed said the expenditure from the time they load the truck to the time they ofload is too much compared to how much they are given by the owners of the trucks.
Mohammed said they are a lot of charges they have to pay when in transit such as parking fees at Nakonde dry port which has to be paid from their own pocket because the transporter does not give them money to carter for such expenses.
http://www.lusakatimes.com/2011/07/20/striking-tanzanian-truck-drivers-force-nakonde-border-close/