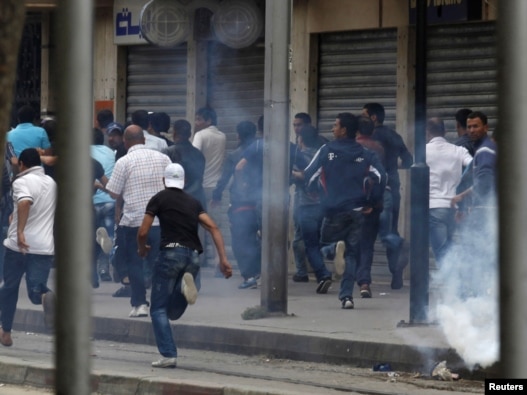 TUNIS // Tunisia's interim prime minister yesterday accused agitators of using violence to try to derail elections that many Tunisians consider vital to the country's transition to democracy.
"There is an orchestrated plan to upset the stability of the country," Béji Caid Essebsi said in a televised address. "Elections will be held as scheduled on October 23 despite everything."
Mr Essebsi went on air hours after news broke that a 14-year-old boy had been killed late on Sunday as security forces clashed with protesters in Sidi Bouzid – the rural town where Tunisia's revolution began seven months ago when an impoverished vegetable seller set fire to himself outside the regional governor's office after city officials confiscated his goods.
A defence ministry official, Colonel Marouan Bouguerra, said the boy was killed by a bullet that ricocheted when soldiers fired into the air to disperse protesters.
Tunisia has made strides towards democracy since the former president, Zine El Abidine Ben Ali, was deposed in January. Political parties have sprouted by the dozens, free speech has expanded, and the country is abuzz with debate. In October Tunisians are to vote for a national assembly to draft a new constitution.
However, protests and vandalism in several cities over the weekend have stirred fears among some Tunisians of counter-revolutionary forces seeking to destabilise the country.
"There are many parties resorting to double talk and we know who they are," Mr Essebsi said.
Protesters have often levelled the same charge against Mr Essebsi and the interim government, who they say have failed to move quickly enough toward establishing a new political order.
While Mr Essebsi argued in favour of holding elections next week as initially planned, the government last month postponed them to October 23 after weeks of tense debate among political actors.
Meanwhile the government's progress on dismantling Mr Ben Ali's regime has been matched by a slowness to hold it to account, Hamadi Redissi, a politics professor at the University of Tunis, wrote in The New York Times on Friday.
"The key to establishing a new democracy will be how the interim government deals with members of the old regime," Mr Redissi wrote. "Unfortunately, it has been reluctant to bring them to justice immediately, opting instead to leave this pivotal responsibility to the government that will take power after elections in October."
On Friday hundreds of protesters marked six months since Mr Ben Ali's fall by gathering outside Mr Essebsi's office in Tunis, the capital, to demand that those they deem responsible for deaths during the revolution or abuses afterward face justice.
"Our demands are simple," said Ziad, a young teacher from Kelibia. "The sacking of the interior and justice ministers, sanctions against the masterminds of killings and redress for the victims."
Riot police fired tear gas to disperse protesters who had regrouped in an adjacent mosque and attacked journalists covering the demonstration, the state news agency reported. The interior ministry said protesters damaged the mosque and threw objects at police, injuring 18 of them.
Friday's violence appears to have sparked a chain reaction of riots and demonstrations over the weekend.
On Saturday police used batons to beat protesters heading for Mr Essebsi's office, the state news agency said. About 200 protesters in Intilaka, a working-class Tunis suburb, later clashed with police and set fire to a police station.
Among the protesters were bearded young men chanting "Allahu Akbar" and "You attacked Islam", a possible reference to the clash on Friday at the Tunis mosque.
Meanwhile in the town of Menzel Bourguiba, about 70km north of Tunis, demonstrators set fire to a police station late on Saturday before security forces dispersed them with warning shots, the state news agency said.
On Sunday afternoon about 200 protesters staged a sit-in outside the headquarters of the General Union of Tunisian Workers in Tunis, demanding that protesters arrested on Friday be freed, accoring to the state news agency. Police were deployed in force but did not intervene.
In Sidi Bouzid, groups of young men stormed through the town on Sunday evening, burning tyres in the street and hurling Molotov cocktails at security forces, the state news agency said. Motorcycles were reported to have been stolen from the municipal depot and cars at the state agriculture office ransacked.
"To me, it's unclear what exactly the protesters here want," said Rachid, a leading businessman in Sidi Bouzid. "Some seem politicised, but others just want to steal things and cause trouble."
Long neglected by Mr Ben Ali's regime along with other rural areas, Sidi Bouzid still suffers from high unemployment and increasing drug use among young people, Rachid said.
"Of course, most people here want answers to their problems, but they're not going to the street about it," said Rachid. "These protesters are a minority."
Yesterday morning several dozen protesters marched through Sidi Bouzid for several hours, Rachid said, finally stopping outside the main courthouse, where they set fire to a car.

http://www.thenational.ae/news/worldwide/africa/agitators-derailing-elections-in-tunisia-pm-claims?pageCount=0
Other reports said riots erupted in several cities in the governorates of Sfax, Kairouan, Sousse and Le Kef. The government said there were "serious attempts to target the headquarters of administrative and security headquarters as well as private and public properties."
http://www.albawaba.com/main-headlines/one-dead-tunisia-clashes-383678

Tunisia's main Islamist movement Ennahda on Tuesday condemned the latest spate of violent incidents in the country and reiterated its commitment to the electoral process.
"We condemn violence wherever it comes from, be it from demonstrators or from the security forces," the movement's chairman, Rached Ghannouchi, said at a press conference.
"Our first message is to reassure the Tunisian people: everything that happened does not jeopardise the revolution and elections will take place as planned on October 23," he said.
Ennahda supporters were among those accused of being behind a series of weekend attacks against police stations and protests against the government that left a teenage boy dead.
Ghannouchi took umbrage at comments made Monday by Prime Minister Beji Caid Essebsi, who saw the latest string of incidents as an attempt by "some parties" to destabilise the country and derail the elections.
"These accusations against forces he did not name were interpreted as being directed at Ennahda," the Islamist leader said.
Ghannouchi stressed that his movement was supportive of the security forces and insisted Ennahda never organised any protests.
http://www.thenewage.co.za/23415-1019-53-Tunisia_Islamists_condemn_latest_violence
July 18 (Bloomberg) — Six policemen were injured when extremists exchanged fire with them in Menzel Bourguiba, Tunisia, about 60 kilometers (37 miles) north of the capital city of Tunis on July 16, the Interior Ministry said in a faxed statement late yesterday.
Extremists also set police stations and other public property on fire in provinces across Tunisia in an attempt to "undermine the climate of stability and security" that prevailed after the lawlessness following the ouster of former President Zine El Abidine Ben Ali on Jan. 14, the ministry said.
http://www.sfgate.com/cgi-bin/article.cgi?f=/g/a/2011/07/17/bloomberg1376-LOJ1IO0YHQ0Y01-3GQG5GCUFVR0M9N3EL5B61KEJC.DTL

TUNIS, July 19 (Xinhua) — The Tunisian authorities decided to impose a curfew on the southern governorate of Sidi Bouzid, the birth cradle of the Tunisian protests, the official press agency TAP reported on Monday.
The curfew which will be in force since Monday from 10 p.m. ( 2000 GMT) to 5 a.m. (0300 GMT) is part of a decision "to save human lives and to protect public and private property," TAP quoted a communique from the interior ministry as saying.
http://www.shanghaidaily.com/article/article_xinhua.asp?id=4247