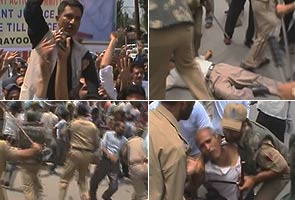 Srinagar:  Police used water cannons and batons to break a march taken out by government employees in Srinagar to press for their demands including release of pending arrears of the sixth pay commission, officials said.
The police swung into action after several thousand employees gathered at Exhibition crossing in the heart of the city and started marching towards the nearby Civil Secretariat this afternoon, they said.
Over 150 slogan-shouting employees, including their leaders, were detained and nearly a dozen others injured as police used force to chase away the protesting employees, they said.
Work in government offices was also badly hit due to the protest programme chalked out by the employees' bodies.
The call for today's protest was given by Joint Consultative Committee (JCC), an amalgam of various employee bodies, to press for their demands including release of arrears and regularisation of adhoc employees.
JCC had announced "secretariat gherao" and threatened to intensify the agitation if the demands of the employees were not met forthwith.
"The state government is forcing the employees to pour on the roads. It has practically failed to implement the promises and assurances given to us time and again during the past three years," JCC leader and Teachers Forum Chairman Abdul Qayoom Wani said.