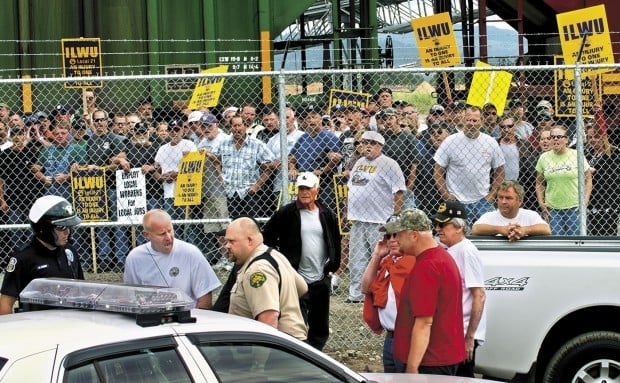 About 100 union dock workers, including union leaders, were arrested Monday afternoon after they tore down a chain-link gate and protested inside the EGT grain terminal at the Port of Longview.
In one of the boldest labor demonstrations in recent memory, members of the Longview-based International Longshore and Warehouse Union Local 21 stormed the terminal to protest EGT's use of non-union labor to handle grain in the testing phase of the new $200 million facility. Authorities said the gate appeared to have been pulled down with a pickup, and protesters blocked EGT employees from working in the terminal.
About 20 law enforcement vehicles swarmed to the east end of the port just after 3 p.m. Sheriff's deputies and other officers from the Longview and Kelso police departments moved freely among the protesters, who were sometimes loud, but not violent.
"By far this is the most intense labor event that I can remember," said Cowlitz County Sheriff Mark Nelson, who stood at the crowd's center at one point discussing the situation with the union's leadership.
Tensions have been rising between EGT executives and ILWU since contract talks broke down about three months ago. The company's officials have said they plan to open the terminal this summer with about 50 workers, likely non-union.
http://tdn.com/news/local/article_a0afe5b8-ac19-11e0-b0d1-001cc4c002e0.html