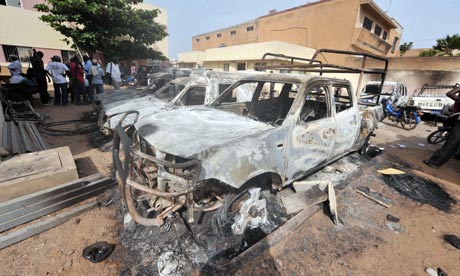 DAKAR, June 29 (Reuters) – Senegal said on Wednesday it had deployed the army to help end a spate of riots that destroyed state buildings and left charred vehicles in the streets of the capital Dakar.
The normally tranquil West African country has been rocked by protests over power cuts that have catalysed public anger against President Abdoulaye Wade, with demonstrations in recent days leaving anti-riot police overwhelmed.
"We mean business now," Serigne Mbacke Ndiaye, a spokesman for Wade, told Reuters by telephone, confirming the deployment of the army around key sites in the city.
Another official said the deployment of the military would free up between 400 and 500 riot police and gendarmes to "deal with demonstrators" if needed.
Several soldiers armed with rifles guarded Dakar's only tunnel, while others were seen posted at the coastal city's African Renaissance Monument — a towering $27 million statue built by Wade in 2009, Reuters witnesses said.
On Monday night thousands of demonstrators went on a rampage over power cuts that had lasted more than 30 hours in some neighbourhoods, destroying the offices of state utility Senelec, looting other buildings and trashing cars.
Senelec apologised for the blackouts blaming fuel shortages and ageing generators, but the government has said protests are now providing cover for criminals.
"In recent days there were acts of vandalism and banditry, acts that had nothing to do with politics, and we need to safeguard the security of Senegalese and foreign nationals," Communication Minister Moustapha Guirassy said.
Senegal has earned a reputation as West Africa's most stable and democratic country but is seeing rising public frustration over worsening public services, particularly in power generation, since Wade took power in 2000.
Monday night's riots followed anti-government protests last week after Wade tried to alter the constitution in a way his rivals said would make it easier for him to get re-elected in February polls.
During the protests, police in full riot gear were seen huddling in groups, some with their backs turned, under a rain of rocks thrown by demonstrators.
Senegal's opposition is calling for Wade to bow out of the coming elections, but has condemned the looting.
http://af.reuters.com/article/senegalNews/idAFLDE75S0T120110629?sp=true