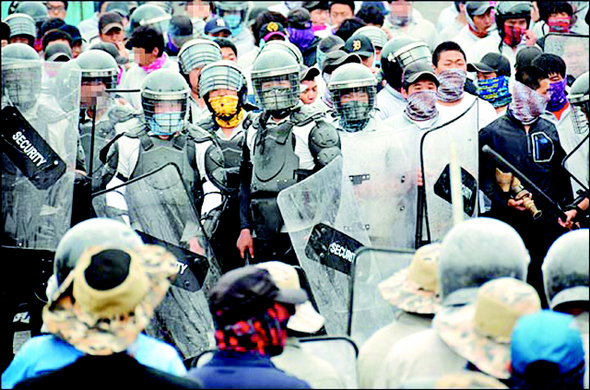 Union members of Yoosung Enterprise Co., Ltd. (YPR), a key auto parts maker, stand up against employees from a company that the YPR management hired to prohibit union members from entering the factory at the factory's main gate in Asan, South Chungcheong Province, June 22.
The employees mobilized by the management, known in some labor circles as "scabs," were armed with a variety of riot gears including shields, helmets and batons. Earlier that day, unionists clashed with them, leaving with 28 individuals from both sides taken to hospitals.
At 9:30 p.m. about 1,100 unionists attempted to enter the main plant and clashed with 1,500 riot police from 18 companies guarding the main gate, but failed to make their way into the plant. Some 100 individuals were injured during the violent clash in which unionists wielded iron pipes and bamboo sticks, and threw stones, while the police shot water canons.
A union official argued that riot police exerted excessive force, but a police officer refuted the claim, saying that they had to fight back.
The unionists have been trying to enter the plant en masse insisting that all workers should be given their jobs back as a whole. However, the YPR management is insisting unionists return to work on an individual basis in order to screen out union leaders and hardliners.
Non-unionized workers have operated the plant since May 24 when riot police raided the plant that hundreds of union members occupied and staged a weeklong strike demanding the introduction of daily two-shift system.
http://english.hani.co.kr/arti/english_edition/e_entertainment/484355.html