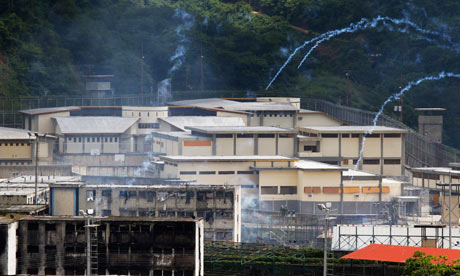 Fire has ripped through a prison where thousands of Venezuelan troops struggled to put down a revolt by inmates on Sunday as dozens of relatives gathered outside the prison.
Officials gave few descriptions about the progress of the three-day battle at the Rodeo I prison, and did not say whether more people had been killed or injured beyond the three dead and 18 wounded reported on the first day of the clash. Gunfire continued inside the compound.
The deputy justice minister, Néstor Reverol, told state television the fire had been caused by a short circuit, and that inmates had been evacuated before flames engulfed a building. Some relatives outside said that prisoners with cell phones had told them troops started the blaze.
Evelyn Rodriguez, 27, climbed a nearby hill for a view and gasped when she peered through binoculars to see the prison blackened by the fire.
"My husband and my brother were inside that building," Rodriguez said, trying to hold back tears. "I have no idea what has happened to them."
The violence erupted in the El Rodeo I prison as troops searched for weapons, and has since extended to Rodeo II, an adjacent prison. A riot at El Rodeo I on 12 June left 22 dead.
It was not clear how many inmates remained at the prison or how many were resisting the troops. The justice minister, Tareck El Aissami, said on Sunday that at least 2,500 inmates had been transferred to other prisons.
A 5,000-strong security force, including 3,500 national guard troops, was joined on Saturday by 400 soldiers from an elite army paratroop unit, according to officials.
Half a dozen armoured vehicles circled courtyards inside the compound on Sunday. Troops lined up along tree-covered hillsides surrounding the prisons and repeatedly fired volleys of teargas canisters.
Gunfire erupted sporadically throughout the day.
Venezuela's severely crowded prisons have suffered repeated violent outbursts as rival gangs often fight for control of cellblocks and sell weapons and drugs, with the help of corrupt prison guards.
The country's 30 prisons were built to hold about 12,500 prisoners but instead hold about 49,000, according to the Venezuelan Prisons Observatory, a group that monitors prison conditions.
Last year, 476 peopled died and 967 people were injured in the country's prison system, according to figures compiled by the Inter-American Commission on Human Rights.
Human Rights Watch also said in a recent report that about three out of four inmates in Venezuela's prison system have yet to be sentenced owing to backlogs in the country's slow-moving justice system.
Relatives and friends of prisoners complained on Sunday that authorities had not informed them whether their loved ones were safe.
"This is a tremendous Father's Day present they've given us," Rodriguez said.
http://www.guardian.co.uk/world/2011/jun/20/venezuela-prison-fire-riot