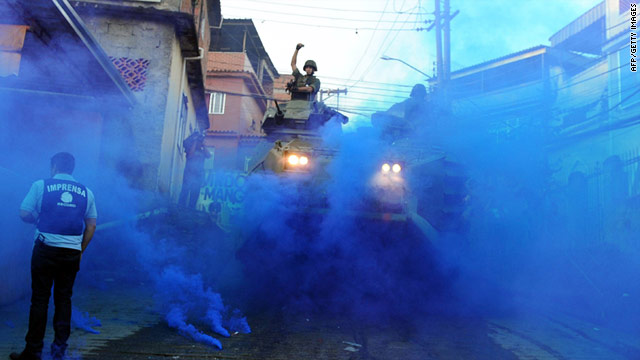 (CNN) — Hundreds of military police raided a slum in northern Rio de Janeiro this weekend, seizing dozens of vehicles and hundreds of bundles of marijuana, state-run media reported Sunday.
There were no exchanges of gunfire in the operation, the city's public security chief Jose Mariano Beltrame told reporters on Sunday, according to Agencia Brasil.
The peaceful operation is in stark contrast to what happened in Rio in November, when at least 35 people died in violence set off after drug gangs lashed out at the increased police presence in the crime-ridden slums, which are known as favelas, police said. That unrest led to a massive sweep of the Alemao favela complex that involved about 2,600 police and soldiers.
This weekend's operation, which culminated with the raising of a Brazilian flag Sunday morning in the Caixa d'Agua section of the city, was conducted by about 750 military police personnel.
Brazilian intelligence agents and marines also played a role, with 14 armored vehicles, five helicopters and GPS units all used as part of the operation, Agencia Brasil reported.
About 315,000 residents live in the affected neighborhoods, which include Morro da Mangueira, Morro dos Telegrafos and Candelaria.
Authorities announced that they'd seized 32 vehicles and 300 packs of marijuana.
They'd also served 55 arrest warrants issued in the preceding two months, with three arrested as part of the weekend operation.
Beltrame defended the decision to give advance notice of the raid, saying it minimized the prospect of violence. He added that authorities have information on drug traffickers who fled the area ahead of the operation, saying they will be arrested when the time is right.
http://edition.cnn.com/2011/WORLD/americas/06/19/brazil.rio.raid/