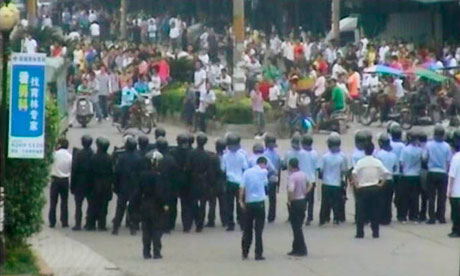 BEIJING — Informers who help identify participants in a three-day riot by migrant factory workers in southern China could be rewarded with cash, honorary titles and a chance at official urban residency status, an official announcement said.
The police notice published on the website of the Zengcheng Daily newspaper indicates authorities are having trouble tracking down those behind the violence that broke out June 10, in which vehicles were torched, government offices ransacked and at least 25 people arrested.
Authorities are offering up to $1,500 in cash together with "outstanding migrant worker" titles and urban residency permits that allow better access to schools, subsidized housing, health care and other public services, the notice said.
"The public security departments call on the broad masses of city residents not to be incited by people with ulterior motives, but to keenly struggle against criminal lawbreakers and actively reveal the identities of these criminal lawbreakers," said the notice, dated Saturday.
It wasn't clear whether the offer has led to any useful information and calls to police and telephone numbers attached to the notice rang unanswered Monday.
Yet it was a clear sign of the lack of trust between security forces and citizens at a time of growing unease over corruption, abuse of power and a worsening income divide.
The Zengcheng riot was sparked by a confrontation between security guards and a pair of migrant sidewalk vendors in Zengcheng's Xintang township. Tensions grew over the following two days as more and more fellow migrants from the southwestern province of Sichuan rushed to the area, culminating in a night of violence on June 12.
Migrant workers usually perform the most dangerous and least desirable work in China and are widely seen as vulnerable to abuse and discrimination by authorities and local residents.
A number of apparently unrelated cases of unrest have broken out around China in recent weeks, some involving migrant workers. The government's response has been to meet them with overwhelming force while being slow to address underlying causes.
However, such stopgap measures will grow increasingly ineffective unless fundamental tensions between citizens and the Communist government are addressed, said Liu Shanyin, who studies social unrest at the Chinese Academy of Social Sciences.
"If these problems are not addressed, the government's legitimacy will come into question and political and criminal forces could get involved, leading to big trouble," Liu said.
http://www.sacbee.com/2011/06/20/3713030/china-offers-riot-informers-cash.html