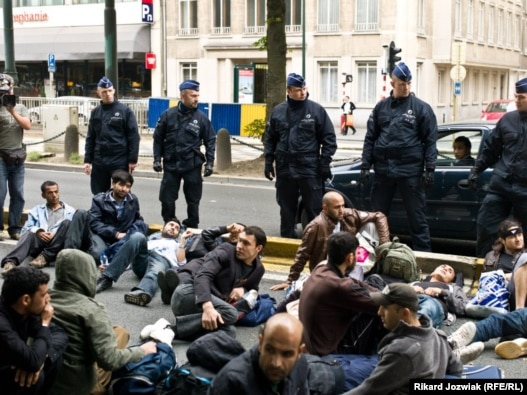 BRUSSELS — Eighty Afghan asylum seekers have been left homeless and unsure of their future after being forcefully evicted from a derelict house in the center of Brussels by Belgian police.
The police action took place early on June 16 as members of the group of men, women, and children were staging a hunger strike to raise awareness of their plight.
Helene Crokart, a Belgian lawyer who is representing the group, tells RFE/RL that Belgium's immigration policies have effectively left the Afghans penniless, homeless, and with no place to turn.
She says that the Afghans were told they couldn't receive refugee status or subsidiary protection, but at the same time, "the Belgian state told them it is not possible to send them back to their country because it is too dangerous. So for the moment they are just like this, in the street."
A federal judge ruled on June 16 that the abandoned office building in which the group had been living for the past few months be closed. The local municipality had granted them use of the building, located a few hundred meters away from most lavish shopping street in Brussels and only 15 minutes from the EU government district.
Neighbors had been providing the Afghans with food and water.
The group had been living there in squalor, with little or no heat and sleeping on mattresses that lined the building's creaky floors from wall to wall. They depended on neighbors for food and water, and four members of the group have been hospitalized with illnesses.
When several police officers arrived on June 16 to forcibly evict the group, clashes broke out and a small protest ensued, disrupting one of the main roads in the city. That night, the group found temporary shelter, but their future remains unclear because the Belgian state is under no legal obligation to provide them with housing.
"They just tried to put us on the street and they did not tell us to go anywhere because we don't have an address, we don't have houses, we don't any other place to go," says one of the asylum seekers, who gave his name only as Hamid. "So they just told us to get out of the house and they don't care where we are going so they just put us on the street."
http://www.rferl.org/content/afghan_asylum_seekers_left_stranded_in_brussels/24239780.html