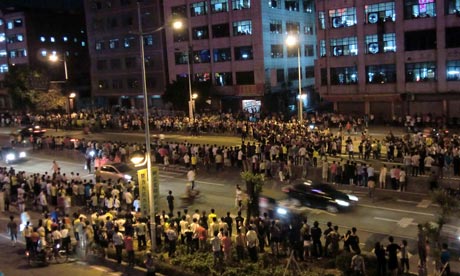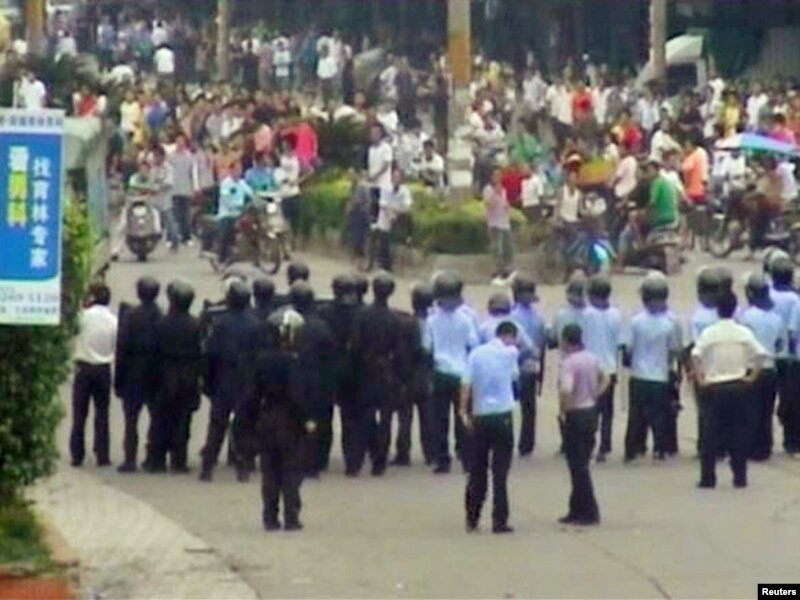 BEIJING—Armed police were still struggling to restore order in a town in southern China a day after hundreds of migrant workers overturned police cars and torched government buildings there in the latest of a wave of violent protests over the last few weeks.
Schools and government buildings in Zengcheng were still shut Monday and armed police were still patrolling the streets, warning residents to stay indoors after sunset, local people contacted by telephone told The Wall Street Journal. Local authorities said no deaths have been reported but didn't provide further details.
Paramilitary police fired tear gas and deployed armored vehicles to disperse the protesters in Zengcheng, near the city of Guangzhou, on Sunday night, according to video footage that was circulating online and broadcast on Hong Kong television Monday.
The unrest in Zengcheng follows two bomb attacks on government facilities and other violent incidents that have highlighted growing public anger at issues including land and labor rights, corruption, health and environmental issues, and police brutality.
Although such incidents aren't uncommon in China, it is unusual for them to happen so frequently, especially in urban areas. It also comes at a politically sensitive time for the Communist Party as it tries to ensure social stability ahead of its 90th anniversary on July 1, and a once-a-decade leadership change next year.
Wang Yang, the Party chief of Guangdong province, of which Zengcheng is a part, is a frontrunner for promotion to the Party's Politburo Standing Committee—its top decision-making body—next year.
The violence took place in Zengcheng, a town of about 800,000 people, with much of it in local Xintang township. It began on Friday night when security personnel pushed to the ground Wang Lianmei, a 20-year-old pregnant street vendor from the western province of Sichuan, as they tried to clear her stall from the road, according to state media.
A crowd of fellow migrant workers gathered and began attacking security guards and police with stones and bricks, as rumors spread that Ms. Wang had been injured and her husband, 28-year-old Tang Xuecai, killed, the state media reports said.
Local authorities tried to quell the unrest over the weekend by setting up a special task force to investigate the case, arresting 25 people and organizing a news conference at which Mr. Tang said that both his wife and their unborn child were unhurt, the reports said.
"The case was just an ordinary clash between street vendors and local public security people, but was used by a handful of people who wanted to cause trouble," Zengcheng's Mayor, Ye Niuping, was quoted as saying by the state-run China Daily newspaper.
Xu Zhibiao, Zengcheng's Party chief, went to visit Ms. Wang in hospital and took her a basket of fruit, the China Daily said.
But the violence flared again on Sunday night, witnesses said.
Video footage circulating on Chinese websites and shown on Hong Kong television appeared to show protesters in Zengcheng running through the streets, smashing windows, overturning police vehicles and setting fire to government buildings that night.
"This riot turned out to be really big last night," Dong Xingguo, a migrant from Sichuan who is working as an IT engineer in Zengcheng, told the Journal.
"Today I can see lots of police and soldiers standing in front of the buildings in the city, not only the government buildings. Many schools, government buildings and banks are shut down…Right now, it seems to be quiet. But I do hear thing will be happening during the night time. We were all told not to go out on the street."
Local police didn't answer repeated telephone calls, but a spokesman for the Zengcheng government said: "Currently the situation in Zengcheng is stable. No death toll."
He confirmed that there were still many police and riot police on the streets to keep the peace but declined to provide further details.
Meanwhile, some local residents were using Twitter-like microblogs to call for able-bodied young men to arm themselves to defend their community against the rioting migrant workers.
—Yang Jie in Shanghai contributed to this article.
http://online.wsj.com/article/SB10001424052702304665904576383142907232726.html