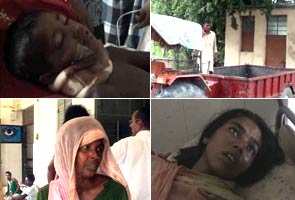 FORBESGANJ: Three persons including a woman were killed and eight others were injured in cross firing between the police and an unruly mob which allegedly attacked an upcoming industrial unit in the local industrial area and vandalized vehicles on Friday.
Kosi DIG, who is also in charge of Purnia range, Sudhanshu Kumar told TOI that three persons were killed and eight others were injured in the incident of firing. Unofficial sources, however, put the death in police firing at four.
Police opened fire at the mob after it went berserk and vandalized the starch unit under construction at the industrial area set up by the Bihar State Industrial Development Corporation on the outskirts of the town. The injured were sent to hospitals at Purnia and Araria, the DIG said. The identity of those killed was not available till the time of reporting.
Police sources said that dozens of villagers had collected at the industrial area where a starch factory is coming up at a cost of Rs 130 crore. This factory reportedly obstructed the movement of people living in a nearby village, Bhajanpur. The villagers were demanding construction of a road which could provide passage to their village on the other side of the factory, sources said. However, the mob turned violent leading to firing.
Tension still prevails in the area. Senior police and civil authorities are camping at the site.
http://timesofindia.indiatimes.com/city/patna/Villagers-protest-turns-violent-three-killed/articleshow/8717536.cms