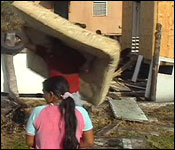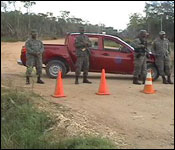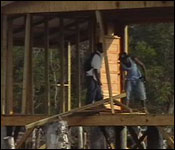 It may be the result of a long, hot dry season, but, in mid-2011, civil unrest is in full, sustained swing.
Last week Friday – the northern and Western highways were shut down by bus operators. And today the Belcan Bridge was blocked by a few dozen squatters.
It was a tumultuous and uncommon sight as entire families – children included – were pushed off the bridge by police resulting in disturbing images of enduring poignancy.
We were on the frontline and we'll have that for your shortly, but we begin at the start, this morning at dawn when those same squatters had their homes on Chetumal Street demolished.
For context, these are the same squatters who we've been following since the end of March. They who built homes on the margins of the road leading to a new Southside/Northside bridge which will connect Lake Independence to Chetumal Street in Belama.
Government says the land they built on is already earmarked for a sports stadium and a bus terminal – and in April, police tired feebly to move them.
Well today's predawn operation was no feeble effort, and along with Plus TV we were there to see it happen. Jules Vasquez reports:
http://www.7newsbelize.com/sstory.php?nid=19774