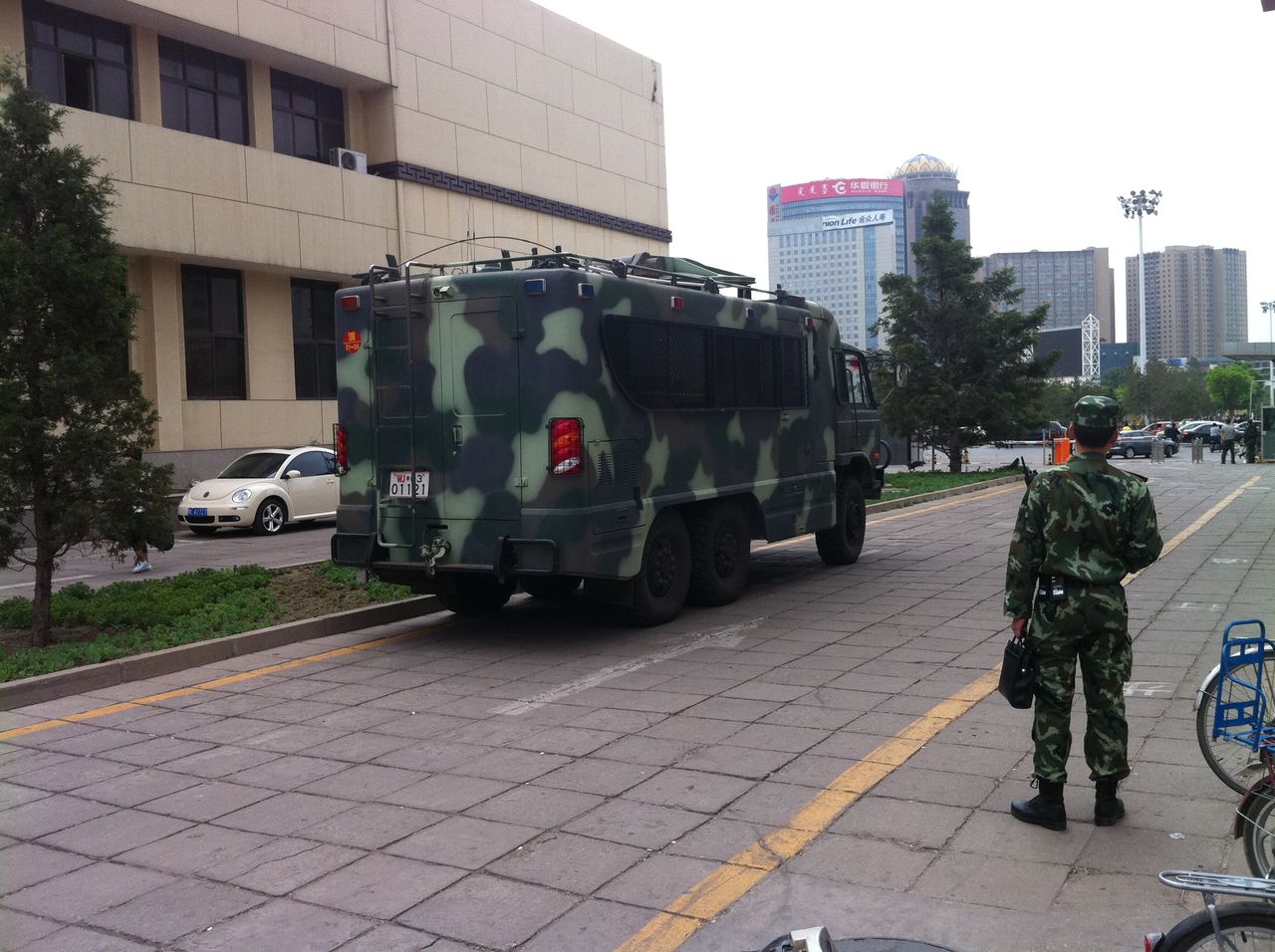 On the morning of May 30, 2011, around 11:00 AM, despite the Chinese authorities' declaration of martial law and deployment of riot police and paramilitary forces in major cities of Southern (Inner) Mongolia, hundreds of Mongolians took to the streets of Hohhot, regional capital, to demand the rights of Mongolians and the release of detainees. Reportedly the protesters were dispersed by riot police after an hour with dozens arrested.
Some sources said nearly a thousand Mongolians, mainly ordinary residents of Hohhot city, joined the protest and marched toward the government building while authorities operated under the highest alert conditions.
An unconfirmed report from Duowei News, an overseas Chinese news agency, said a government official told its correspondent in Hohhot that fewer than 10 protesters were killed as authorities dispersed the crowd in front of the Government building. The report also stated that the Chinese authorities suspect that "foreign hostile forces" are behind the protests.
According to a Hong Kong TVB News video report in Cantonese, on May 30, additional paramilitary forces were deployed from Bogt (Baotou in Chinese) City to Hohhot to control the Mongolian protests (see the video clip below). Major colleges including the Hohhot Nationality University were placed under heavy guard and the city's main square, the Chinggis Khan Square was sealed off.
Home to thousands of Mongolian students, major schools, colleges and universities in Hohhot have been under heavy guard by riot police and paramilitary forces. Students were closely monitored by their teachers and security personnel inside the campuses.
"There are at least three layers of security here in my school. The first and outermost layer is  the riot police and paramilitary forces encircling the entire campus; the second and middle layer is the security personnel guarding the major entrances inside and outside; the third and innermost layer is the security personnel who guard all entrances of dormitory and academic buildings," a Mongolian professor from the Inner Mongolia University who was ordered to carry out guard duty over students told SMHRIC in a brief phone interview, "we are ordered to have our lunch inside the campus, and not allowed to leave the office until further notice."
The Inner Mongolia Normal University posted an "important notice" on May 30, 2011, to warn all the teachers and students of all high schools and colleges not to leave the school according to an urgent notice received from "higher authorities" (see the notice above).
Notices and warnings are circulating widely not only in schools, but in many companies and institutions where the number of Mongolians are relatively large. All government employees are warned that they would be removed from their posts if they participate in any sort of public discussion or join any protest.
"Text messages from the authorities are warning residents to stay indoors due to possible violence on the streets," a professor of the Inner Mongolia Normal University, told SMHRIC over the phone, "every few minutes we receive similar text messages."
According to another source, Chinese authorities in Hohhot are intentionally spreading a rumor that the Mongols are attempting to bomb the building of Inner Mongolia TV Station immediately next to the Xinhua Square, the location of the proposed protest.
"This is not a good sign. The authorities are trying to fabricate a pretext for a crackdown on the protesters," a Mongolian college student told SMHRIC in an email statement, "at the same time, the authorities are not hesitant to spread word of harsh clampdown and 'serious consequences' if there are any protests."
An interesting development of the protest is that those Mongolian students who were confined to their campuses carried out in-campus protests in major universities including the Inner Mongolia University, Inner Mongolia Normal University, Hohhot Nationality University and some high schools, to express their defiance. Those students who were locked up in their classrooms and dormitories threw Chinese language textbooks through windows to protest the authorities' action.
Shiliin-gol League where the first demonstration erupted a week ago has been put under extremely tight paramilitary and police control. None of more than 40 detainees have been released. At least two more young Mongolians were arrested in Right Ujumchin Banner on May 30, for sending photos of the protests out to overseas human rights organizations and news media; two more Mongolian teachers were arrested on the same day in Shiliin-hot city for supporting and encouraging students to take to the streets.
Sources revealed paramilitary personnel have been ordered to carry out a door-to-door search for protest participants in Mongolian neighborhoods in Shiliin-gol League. Local government officials were dispatched to Mongolian households to carry out so-called "ideological work" to persuade the Mongolians not to join any future protests.
In Tongliao City, home to the largest Mongolian population among all leagues and municipalities, students and teachers were confined to their schools. Police reinforcements were dispatched from lower level administrative units including banners and counties to Tongliao City to help avert any possible uprising there. Local government workers were dispatched to Mongolian communities to carry out propaganda work in an attempt to convince the Mongols about the favorable aspects of China's ethnic policy.
"They are doing this in all banners and counties of Tongliao. On the one hand they are trying to fool the Mongolians with their ethnic policy," a Mongolian dissident and activist who has been put under home confinement for several days in Tongliao City's Naiman Banner told SMHRIC over the phone, "on the other hand they threaten to crack down on any sort of protests of the Mongolians if we do not listen to them."
http://www.smhric.org/news_386.htm