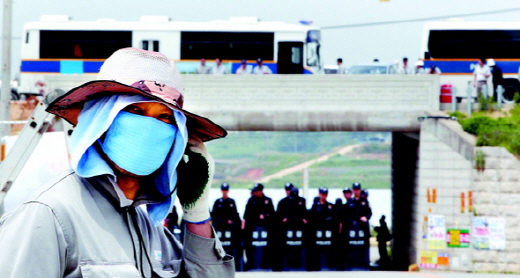 A document has surfaced suggesting interference by Hyundai Motor in the labor-management relations of Yoosung Enterprise Co., Ltd.(YPR), one of its parts suppliers. It also emerged that YPR made preliminary plans of a lockout before a strike by its labor union.
In a press conference Monday at the National Assembly Press Center, the Democratic Labor Party (DLP), New Progressive Party (NPP), Korean Confederation of Trade Unions (KCTU), and Korean Metal Workers' Union (KMWU) disclosed a document drafted on May 11 by YPR with the title "YPR Guidelines for Strike Response." The document in question was found on May 29 in the vehicle of a Hyundai Motor purchasing management headquarters chief in the parking lot of YPR's Asan plant.
The document included recommendations for discussions on the daily two-shift system, along with concrete "stalling tactics," including such methods as "forming a working team with the format of implementation pursuit within three months of Hyundai Motor implementation" and "preventing 'pre-implementation' labor-management discussions prior to Hyundai Motor and Kia Motor implementation."
As a reason for this, the document cites "concerns about certain variables arising in Hyundai Motor and Kia Motor negotiations if the YPR labor and management agree on implementation of the daily two-shift system."
The union said, "The document shows that Hyundai Motor coordinated a schedule for introducing the daily two-shift system through preliminary discussions with YPR."
At the press conference, KMWU President Park You-ki said, "With the Hyundai Motor and Kia Motor labor and management currently engaged in negotiations on the daily two-shift system, they stirred up labor-management conflict by threatening the owners of parts suppliers out of a concern that a preliminary agreement reached by YPR might have an impact on the negotiations."
It also came to light that YPR developed detailed plans for the deployment of hired security staff and a lockout prior to a May 17 and 18 labor union vote on holding a strike. The document included plans for reporting an assembly in front of the company on May 12, drafting a lockout announcement and statement on May 13, and deploying hired security staff to shut down the front gate on May 15.
Kwon Du-seop, an attorney with the KCTU Law Center, said, "This could be viewed as an improper labor practice, since YPR could be in violation of labor law with an aggressive lockout and Hyundai Motor effectively interfered with directions not to engage in collective bargaining."
In response to the allegations, a Hyundai Motor official said the company did not interfere in YPR's labor-management relations, but added, "It appears some misunderstandings may have arisen in the process of our explaining to YPR about the progress of Hyundai Motor and Kia Motor's labor-management negotiations on the introduction of the daily two-shift system."
http://english.hani.co.kr/arti/english_edition/e_national/479451.html