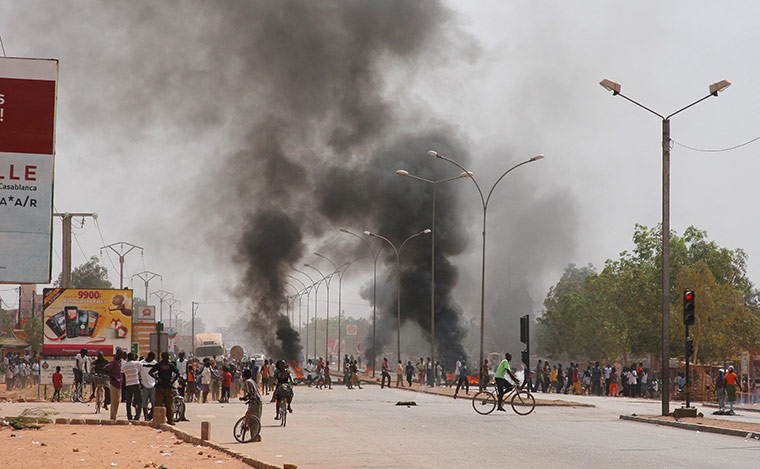 Four students were injured during a protest on Friday, three by bullets, as Burkina Faso police opened fire to disperse the youths who set fire to a police station, witnesses said.
The students rallied near the police station to protest a police mutiny on Thursday, during which a fellow student was injured by a stray bullet near his home.
They attempted to breach a roadblock set up by the police, who at first fired tear gas in a bid to disperse the youths, who in turn hurled stones at the officers.
"Overwhelmed by the influx of protestors, who outnumbered them, the police opened fire with real bullers, injuring some," said resident Crepin Sawadogo, reached by telephone.
He said an injured student was evacuated to a hospital in the capital Ouagadougou, while a medical source said the three others were taken in by a local medical centre.
Police then abandoned the station, which was burnt by the youths.
Following the example of mutinous soldiers who were granted bonuses after revolting in recent weeks, police took to the streets on Wednesday night and Thursday to demand better salaries and the departure of some of their leaders.
Long-serving President Blaise Compaore, who has announced urgent measures in a bid to quell the wave of popular anger across all sectors in the west African country, met soldiers for the second time in a month on Friday.
Some 400 soldiers, non-commissioned officers and officers met with Compaore, who named himself defence minister in a new government formed a week ago.
"I think the representatives of the different army bodies are aware that they have created unease both for the military and society which must be rectified so we can start afresh," Compaore told journalists after the meeting.
Soldiers demanding better living conditions, and housing and food allowances, went on the rampage in recent weeks, carrying out looting and damaging private and public goods.
Compaore expressed confidence "that things will improve, will change" . He said the soldiers "were really committed to no longer succumb to the indiscipline that has characterised their behavior in recent times".
At the same time, Security Minister Jerome Bougouma sought to reach an agreement with angry police officers.
The first protest erupted in Koudougou, 100km west of Ouagadougou on February 22 after the controversial death of a student, reported to have died of meningitis, while family and fellow students claimed he was tortured and killed in police custody.
At least six people have been killed and many injured during the protests, while mass looting by mutinous soldiers caused extensive material damage. A curfew in Ouagadougou has been in place since mid-April.