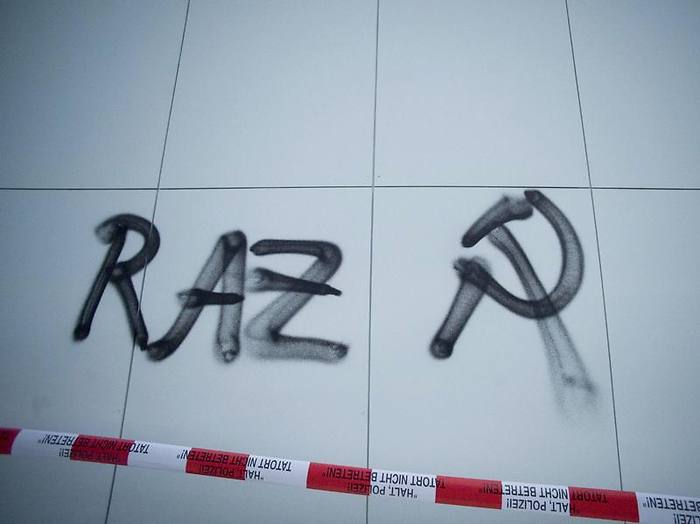 The state repression against both members of  our class in general, and against the revolutionary left in particular is booming: Oury Jalloh burned to death in a police cell in Dessau, Dennis is shot in Berlin during a vehicle check by a cop, Slieman dies in Berlin as the result of a massive use of pepper spray – the state murderers are covered and remain undisturbed.
National security trials against alleged members of clandestine militant groups and revolutionary movements at home and abroad, raids against leftist bookshops, criminalization of leftist media (radical, interim and prisma), a spy system, eviction of houses and threats of jail against former members of the RAF are just the tip of the iceberg . The repressive state apparatus, believe that they can intimidate and silence us through threats and intimidation . We say to the rulers: "Forget it!" If the repressive state apparatus believes it can intimidate us by a chain of repression,  and beatings, it has miscalculated.
The protagonists of the state's assault will find obstacles in their path. As our contribution to the organized resistance of the revolutionary left, we have left three "eminent personalities" a special greeting in which we sent them an 8mm cartridge by post. The next delivery is by express …
Today's selection strikes:
1) the new CSU-Interior Minister Hans-Peter Friedrich. We handed over our little break on  his motivation  as a welcome gift
2) the deputy of the Attorney General (BAW) and our direct opponent Griesbaum. For his tireless activity against former comrades from the RAF, he has our special attention.
3) And lastly  the years of "theoretical extremism" propaganda from the academic ivory tower by Uwe Backes and Ekkehart Jesse was found "worthy".
Class against class – War on war!
For a militant platform – for the construction of a revolutionary process – for communism!
Revolutionary action cells (RAZ)
– Cell Georg von Rauch – "