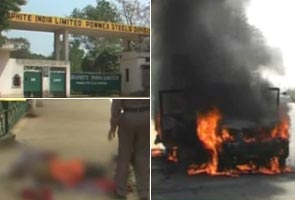 Bhubaneswar:  A senior executive of Powmex Steel in Orissa has died in hospital after he was attacked by factory workers.
RS Ray, who was the Deputy General Manager of the steel plant that's based in Orissa's Titalagarh district, was in his car when it was set on fire.
Workers at the steel plant are on strike, demanding higher salaries.
Reports that 11 employees had been fired reportedly provoked a mob to set Mr Ray's car on fire.
The executive managed to exit the car but sustained 60 per cent burns. He was taken to a hospital in Rourkela, which is 500 km away, since hospitals closer to the factory do not have burns wards.
Nobody has been arrested so far for Mr Ray's death.

http://www.ndtv.com/article/india/steel-executive-dies-after-workers-attack-him-in-orissa-89209?trendingnow