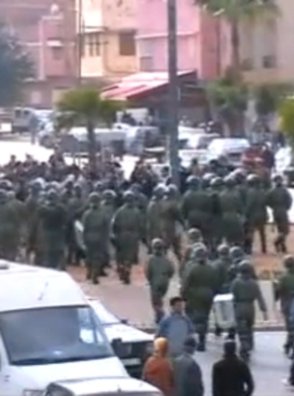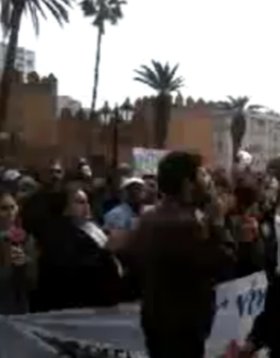 afrol News, 27 February – Several Moroccan cities saw attempts to organise follow-up pro-democracy protests today brutally stopped by riot police. Organisers denounce "a climate of fear" in the country.
Following the large, nation-wide protests one week ago, on 20 February and smaller protests yesterday, big pro-democracy manifestations were planned for today. However, contrary to one week ago, today's protests were mostly banned by local authorities and police in the last moment.
In Kenitra, a major town just north of Rabat, hundreds of protesters were gathering at a central square as suddenly buses full of armed riot police arrived. Police troops kicked and beat protesters with batons, as documented on a video secretly made in the town. Protesters were chased away before a major manifestation even could start.
In the northern city of Tangier, police outrightly forbade today's announced protest altogether, after earlier protests on 30 January and 20 February had been violently dispersed by police, armed with batons and teargas. Around 70 persons have been arrested in connection with repeated protests in Tangier.
According to the 20 February movement, co-organising the protests in Morocco, "a climate of intimidation is prevalent in the city" of Tangier, causing protesters to obey police orders to stay at home today.
In Marrakech, where the 20 January protests had turned violent after police attacked the march, several key organisers of the protests have been arrested, according to Moroccan human rights sources. Police was heavily present at key crossroads, preventing protesters from gathering.
In Agadir, where yesterday's peaceful demonstration was violently interrupted by police forces causing at least three injured, the situation has been calm today, with dissidents speaking of a "climate of fear."
Equally in the Mediterranean port town of Al-Hoceima, were the 20 February protests had cost five lives and yesterday's manifestation was violently disrupted by police, the city today was reported by be "under siege" and calm.
In Casablanca, Morocco's largest city, several thousand persons yesterday had gathered in a peaceful demonstration calling for democratic reforms. Today, the 20 February movement in Casablanca has denounced increased intimidation by the regime, following the arrest of at least 11 organisers in the city, according to French
Only in the capital, Rabat, a few thousand activists were allowed to gather in a peaceful protest. The protest had earlier today been banned by city authorities, but police so far has not acted against the manifestation. The Rabat protest included several leaders from the the Moroccan human rights association AMDH, which had been severely beaten by police in Rabat on 20 February.
There are also unconfirmed reports of a larger protest march in the central city of Fez, with no reports of incidents so far.
Moroccan media – neither state-controlled nor private – have not reported about yesterday's and today's protests. Also international media widely avoid mentioning the Moroccan protest movement. There have also been attempts to censor afrol News' coverage of the situation in Morocco.
In other news, the Moroccan government today confirmed yet another death following the 20 February protests, bringing total up to six deaths. Close to 200 persons, almost exclusively protesters, have also been injured since the protest wave started in late January.