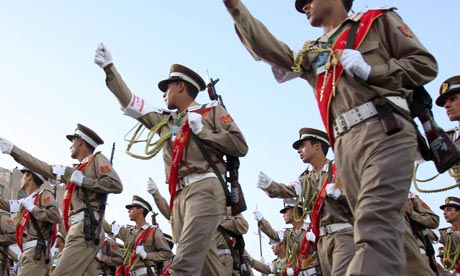 A company that supplies riot control ammunition and a manufacturer of electrified razor wire were among a UK government arms delegation to Tripoli as recently as three months ago.
Amid concern that British equipment may have been used by the Gaddafi regime to suppress unrest in Libya, it has now come to light that representatives of at least 50 UK arms companies accompanied officials to meet military figures in November. They included Birmingham Barbed Tape, which produces razor wire that delivers a "repulse shock", and Lincolnshire-based Primetake, which offers teargas cartridges and rubber bullets.
Reports from Tripoli indicate that security forces have used teargas as well as live ammunition against protesters, though there is no evidence British products have been involved.
The delegation is understood to have been led by Britain's ambassador to Libya, Richard Northern. It attended an arms fair called Libdex at Tripoli's Mitiga military airport, where pro-Gaddafi mercenaries are reported to have landed to help quell the uprising.
The delegation was invited by figures from the Libyan Department of Defence, the Department of Public Security and the general committee of defence, which days ago declared its forces would cleanse Libya of anti-government elements. Essex Industries, a security firm present at the fair, says on its website that its stand was praised by the commander of the Libyan air force.
UK Department for Business, Innovation and Skills documents show that since 2008 licences to Libya have included four for the export of combat shotguns and six for small-arms ammunition, along with separate orders for anti-riot weapons and sniper rifles. Photographs show that British-made high-performance tactical sniper rifles, including the 7.62mm Rangemaster, which has an effective range of 1,000 metres, were on display in Libya during Libdex, though there is no proof that any of the firearms made by Kent-based RPA International were sold to the country.
David Cameron launched a defence of Britain's arms exports last week as he toured the Middle East with eight arms manufacturers. He said Britain had "nothing to be ashamed of" for selling weapons to Arab leaders.
In total, 75 arms export licences have been approved by the British government to Libya during the past three years. A spokesman for Birmingham Barbed Tape would not comment on the trip to Libya. RPA International and Primetake failed to respond to calls from the Observer.