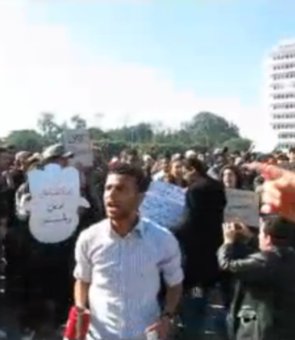 afrol News, 26 February – Several thousands have protested for democratic reforms in Moroccan cities today. Large numbers of police closely monitored the protesters, in preparation for tomorrow's larger march.
After the large Moroccan protests last Sunday, where 5 persons were killed and 138 injured, the 20 February movement had called for new protest marches today and tomorrow. Especially the Moroccan human rights association AMDH, which saw its leaders beaten last Sunday, had urged for renewed protests.
The call for renewed protests has been heavily censored in Moroccan media. Also access to the few foreign media reports about the AMDH's protest call, including by afrol News, has been restricted.
Nevertheless, the protesters managed to recruit several thousand people in most major Moroccan cities. According to the Moroccan media 'Yabiladi' – the only one covering today's protests – the largest protests had gathered in Casablanca, Morocco's largest city. The 'Yabiladi' journalist present estimated the crowd at around 4,000, while organisers put it at 6,000.
The peaceful, cheerful and youthful Casablanca protest, with singing crowds and pro-democracy slogans announced over megaphones, was continuously monitored by uniformed riot police officers. At least hundred police officers were observed, however staying calm throughout the event.
In Rabat, the capital, human rights activists from AMDH dominated the peaceful protest. However, only an estimated 200 protesters had shown up at the sit-in. Apart from the AMDH activists, shouting pro-democracy slogans, a few protesters were carrying banners calling for a stop of the killings in Libya.
Protesters in Rabat were almost outnumbered by police. "One police officers filmed the demonstrators with a camera," the 'Yabiladi' journalist in the capital reported
Other rallies were reported from Al-Hoceima, where five persons had been killed on Sunday, and in Mohammedia and Agadir, where some hundred protesters had gathered.
The rallies in Al-Hoceima and Agadir were dispersed by the police, according to protester sources. In Agadir, unconfirmed clashes reportedly have led to the hospitalisation of three protesters. In Al-Hoceima, police reportedly attacked protesters with batons.
In Casablanca, Rabat and Al-Hoceima, protesters announced greater protest marches for tomorrow. In Marrakech, Tangier and several other cities where there were no protests today, marches are also planned for tomorrow. Organisers today indeed announced that protests would be held every Sunday from now on.
Organisers, especially in Rabat, seemed somewhat disappointed by the low turnout of protesters, but hold that they have been prevented from spreading their message. They are expecting much larger crowds tomorrow, Sunday, however.