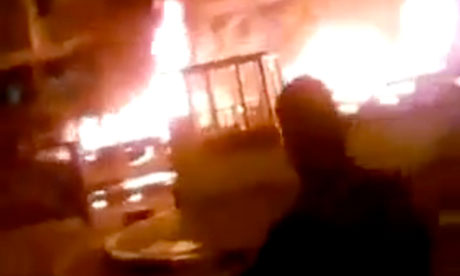 Tens of thousands of protesters across Libya focused their attention on the capital on Friday afternoon, following the midday prayer.
As demonstrators in Tripoli took to the street, security forces loyal to Muammar Gaddafi, the Libyan leader, reportedly began firing on them. At least six had been killed, according to the Associated Press news agency.
There was heavy gun fire in various Tripoli districts including Fashloum, Ashour, Jumhouria and Souq Al, sources told Al Jazeera.
"The security forces fired indiscriminately on the demonstrators," said a resident of one of the capital's eastern suburbs that has seen previous clashes between opponents of the regime and its remaining loyalists.
"There were deaths in the streets of Sug al-Jomaa," the resident said.
In the east of the country, Al Jazeera's correspondent, who cannot be named for security reasons, reported on Friday that army commanders who had renounced Gaddafi's leadership had told her that military commanders in the country's west, which Gaddafi still largely maintains control over, were beginning to turn against him.
They warned, however, that the Khamis Brigade, an army special forces brigade that is loyal to the Gaddafi family and is equipped with sophisticated weaponry, is currently still fighting anti-government forces.
The protests come a day after Gaddafi spoke on state television, accusing al-Qaeda for fermenting the uprising and drugging and brainwashing the country's youth.
The death toll since violence began remains unclear, though on Thursday Francois Zimeray, France's top human rights official, said it could be as high as 2,000 people killed.

Pro-democracy protesters attacked
On Friday morning, our correspondents reported that the town of Zuwarah was, according to witnesses, abandoned by security forces and completely in the hands of anti-Gaddafi protesters. Checkpoints in the country's west on roads leading to the Tunisian border, however, were still being controlled by Gaddafi loyalists.
In the east, similar checkpoints were manned by anti-Gaddafi forces, who had set up a "humanitarian aid corridor" as well as a communications corridor to the Egyptian border, our correspondent reported.
Thousands massed in Az Zawiyah's Martyr's Square after the attack, calling on Gaddafi to leave office, and on Friday morning, explosions were heard in the city. Witnesses say pro-Gaddafi forces were blowing up arms caches, in order to prevent anti-government forces from acquiring those weapons.
Clashes were also reported in the city of Misurata, located 200km east of Tripoli, where witnesses said a pro-Gaddafi army brigade attacked the city's airport with mortars and rocket-propelled grenades.
They told Al Jazeera that pro-democracy protesters had managed to fight off that attack. "Revolutionaries have driven out the security forces," they said, adding that "heavy machine guns and anti-aircraft guns" had been used against them.
Mohamed Senussi, a resident of Misurata, said calm had returned to the city after the "fierce battle" near the airport.
"The people's spirits here are high, they are celebrating and chanting 'God is Greatest'," he told the Reuters news agency by telephone.
Another witness warned, however, that protesters in Misurata felt "isolated" as they were surrounded by nearby towns still in Gaddafi's control.

Government loses oil terminals
Protesters and air force personnel who have renounced Gaddafi's leadership also overwhelmed a nearby military base where Gaddafi loyalists were taking refuge, according to a medical official at the base. They disabled air force fighter jets at the base so that they could not be used against protesters.
Soldiers helped anti-Gaddafi protesters take the oil terminal in the town of Berga, according to Reuters.
The oil refinery in Ras Lanuf has halted its operations and most staff has left, according to a source in the company.

Protesters control east
Pro-democracy protesters appear to remain in control of much of the country's eastern coastline, running from the Egyptian border, through to the cities of Tobruk and Benghazi, the country's second largest city.
They also say they are in control of the western cities of Misurata and Zuwarah. Libyan army forces in many cities in the country's east say that they stand with the anti-government forces against Gaddafi.
Pro-democracy protesters say they have established committees to manage the affairs of the cities they are in control of.
Our correspondent reported that army commanders had told her that there were "cracks [appearing] in the whole system that Gaddafi has put in place and his whole grip in power is melting away by the hour".
She said that pro-democracy protesters in the east had overrun military barracks and now had access to heavy weaponry.
Libya has been in the grip of turmoil since anti-Gaddafi protests began on February 15. .
Violence has ramped up after Gaddafi appeared on state television on Tuesday calling on his supporters to take back the streets and "cleanse" Libya.
The United Nations Security Council was to hold a meeting on the situation in Libya on Friday, with sanctions the possible imposition of a no-fly zone over the country under Article 7 of the UN charter on the table.
The UN's highest human-rights body was also holding a special session to discuss what it's chief had earlier described as possible "crimes against humanity" by the Gaddafi government.
The Swiss government, meanwhile, has ordered a freeze of any assets belonging to Gaddafi in the country. Libya's foreign ministry has denied that any such assets exist, and said that it would "sue" Switzerland.