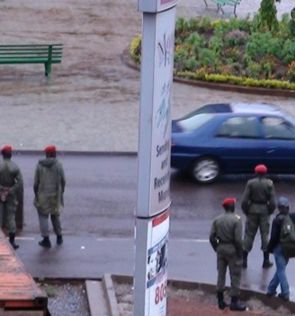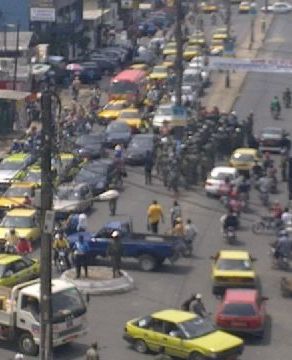 afrol News, 23 February – Cameroon's nation-wide anti-government protests started modestly today, with calls for President Paul Biya to step down. But protesters in Douala and Yaoundé were outnumbered by police.
Since the food price riots in 2008, 23 February has been the day in the year discontent Cameroonians take to the streets; mostly being quickly dispersed by the police.
This year was to be different, according to the hopes and aspirations of the organisers of the protests. This year, they had announced during the last few weeks, 23 February would be the start of Cameroon's Egypt-like revolt.
Reports from Cameroon today – both by the protesters and the media – however indicate that the anticipated anti-government riot rather has been a bleak repetition of the minor 23 February protests during the last years.
The reason may have been that Cameroonian authorities were on a high alert over possible riots, with Communication Minister Issa Tchiroma Bakary yesterday telling the local press that organisers of the protests wanted "to destroy this nation."
Consequently, Cameroon's two major cities this morning were filled up with riot police. In Douala, the country's largest city located at the coast, large groups of uniformed police and soldiers lined up at central squares, roads and in the central Akwa neighbourhood. Vehicles entering the city were stopped and checked by police.
In the capital Yaoundé, armed police and gendarmes in somewhat smaller groups controlled major access roads, government buildings and the central Independence Square. The troops were monitoring any unforeseen gathering of people that could form the nucleus of a protest, immediately asking groups of people to spread.
Protesters found a difficult environment. From around noon, there were increasing reports of minor protest groups in Douala and Yaoundé, which however quickly were dispersed by police, before being able to organise any large crowd.
A gathering of protesters in Douala's Akwa neighbourhood was dispersed.
Eyewitnesses spoke of police confiscating cameras and mobile phones.
Outside these two cities, there have been no reports of protests. No people seemed to be protesting in the traditionally oppositional English language western parts of Cameroon. In the Muslim north, reports from the major University of Ngaoundéré said everything was calm and normal.
During the afternoon, several arrests were reported in Douala, including of Charles Talom, cameraman of the local broadcaster 'VoxAfrica', and "seven opposition figures," according to protesters. Later this evening, 'AFP' correspondent Reinnier Kazé was arrested in central Douala. There were increased reports of police brutality.
Kah Walla, a little known candidate for the 2011 Cameroonian presidential elections, claimed to have been beaten and detained for some hours by the police. Mr Walla had been one of the few Cameroon-based opposition figures to call for anti-government protests.
Most of the calls for Cameroonians to stage an "Egypt-like" revolution indeed had come from the Diaspora, with even independent media in Cameroon giving the protest calls little attention and main opposition figures remaining silent. Many Cameroonians therefore felt the initiative was not from within the country and disconnected from local realities.
Analysts however agree that Cameroon is rife for riot after almost three decades of poor governance by President Biya. Corruption is at one of Africa's highest levels and the recent economic growth has not reached Cameroonians at large.
But with the impulses for the 23 February protests mainly coming from exiled Cameroonians, few seemed to want to follow up on the initiative. However, as the presidential elections are nearing, the country's main opposition may get in a position to mobilise far greater groups.