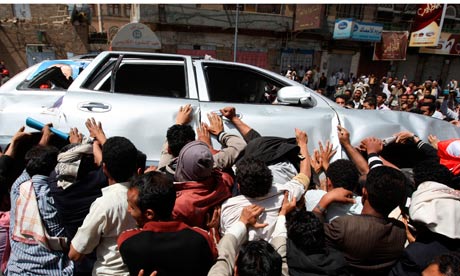 Unrest in Yemen intensified on Tuesday night when at least two protesters were shot dead during a street battle between pro- and anti-government demonstrators at the gates of Sana'a University.
The fatalities were the first in the capital after 12 days of anti-government protests that have swept across the country, and follow uprisings in Egypt and Tunisia.
Medics at the university said 21 people, many of them teenagers, were wounded when a mob of supporters of President Ali Abdullah Saleh broke through a police line and fired at protesters with AK47 assault rifles as well as pistols. Witnesses said the balaataja (pro-government thugs) fired weapons into the air before turning on the protesters and shooting at random into the crowd.
Protesters claim that these gangs are being paid by the government to attack them, but Yemeni authorities deny this.
"Who will protect us? They were shooting at us and the police just disappeared. Where can we go?" said Faisal Al-Ahmed, a 22-year-old business student, cupping a handful of empty bullet shells.
Noah Athib, a 17-year-old with a bloodied bandage wrapped around his thigh, said a pro-Saleh supporter had stabbed him with a jambiya, the traditional dagger carried by many men in Yemen.
A crowd of around 3,000 Yemenis, mainly students and young professionals camped out in tents at the university entrance, are calling for an end to Saleh's 32-year rule. Until Tuesday their sit-in had been a peaceful, and at times jovial, affair with students singing and dancing, and women and children distributing food and blankets.
According to Ahmed Al-Rafhi, a senior sheikh from the northern Al-Jowf area, cohorts of tribesmen from across Yemen have been making their way to the capital to join the students, whose main grievances are government corruption and a lack of employment opportunities.
"Ya Ali, go out, go out! Your throne is rusting under you!" shouted the students, shortly before the shootings.
Earlier in the day anti-government protesters overturned and set fire to a car after discovering men inside apparently trying to smuggle weapons into the university area, a protester said. The students have set up a series of checkpoints to search people entering the protest for weapons, as well as gathering piles of rocks and hurling them at the pro-Saleh supporters.
"The shootings today are an extremely worrying sign," said Abdullah al-Faqih, professor of politics at the university. "There are three times as many guns as there are people in Yemen and violence is usually responded to with more violence. These are incredibly dangerous times from my country."
Saleh rejected mounting demands for his resignation on Monday, telling journalists he would only "leave through the ballot box". The president, who has promised to step down in 2013, also spoke out against the latest unrest percolating across the Middle East comparing it to a "contagious disease".
"This disease is alien to Yemen and its culture. It's a virus that came from Tunisia to Egypt and in some regions it's behaving like a contagious disease. As soon as you sit with someone who is infected, you'll be infected," Saleh told reporters.