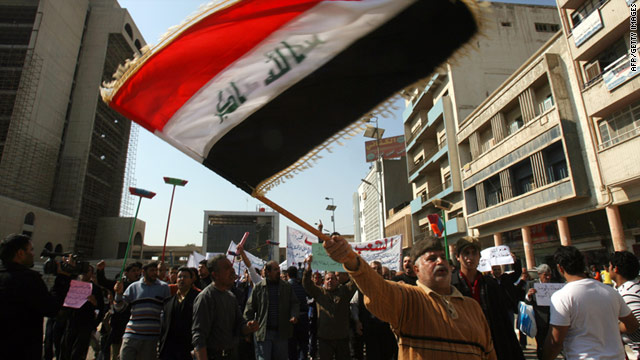 Baghdad (CNN) — Iraqi activists and a gamut of groups ranging from intellectuals to unemployed workers to widows are preparing for large demonstrations Friday in al-Tahrir square in central Baghdad, along with large protests in most of Iraq's provinces.
The organizers have used Facebook, Twitter and websites to circulate invitations for demonstrations on February 25, calling them the "Iraqi revolution." A Facebook page called "The Iraqi Revolution" includes still pictures and videos of previous demonstrations in Iraq and claims nearly 20,000 supporters.
On Tuesday evening, government spokesman Ali al-Dabbagh and Baghdad military operation spokesman Gen. Qassim Atta held a joint news conference regarding the planned demonstrations.
"The Iraqi government welcomes any demonstration by Iraqi people as long as it's a peaceful demonstration," said Al-Dabbagh.
However Atta warned Friday's protesters that there could be possible attacks against them. "Based on our intelligence information, al-Qaeda terrorists, former Baathists and other terrorist groups are planning to attack protesters on Friday by car bombs, suicide bombers and pistols equipped with silencers," Atta said in the news conference, which was broadcast on Iraqiya state television.
When journalists asked Iraqi Prime Minister Nuri al-Maliki about planned Friday demonstrations during a news conference at his office this week, al-Maliki said, "I am not concerned (about) these demonstrations because the political system in Iraq is a democratic system and I am not concerned on the future of our political system at all."
However the prime minister also is urging Iraqi lawmakers to form a service committee as soon as possible to be able to offer betweem 280,000 and 300,000 jobs with government institutions this year.
The Iraqi government was formed in December, nine months after an inconclusive national election. This is the second elected government in the nearly eight years after a U.S.-led invasion toppled Saddam Hussein.
At the end of 2011, the United States is set to withdraw all of its troops from Iraq as part of a bilateral agreement with the Baghdad government. It is too soon to predict whether that will happen or whether the United States and Iraq will negotiate an agreement to keep some U.S. soldiers there after next year.
The Iraqi government took several steps in the past week to offset public unrest.
On Tuesday, government spokesman Ali al-Dabbagh released a statement said that Iraq's cabinet has decided to approve a draft law on salaries and allocations of three presidential councils, including the president and his deputies, the prime minister and his deputies and his ministers, and the speaker of the parliament and his deputies and lawmakers.
The draft law would cut by more than 50 percent the salaries of three presidential councils including Prime Minister Nuri al-Maliki and his deputies and his ministers, President Jalal Talabani and his deputies, and parliament speaker Osama al-Nujaifi, the statement said. The salaries of lawmakers and other ministers would be cut by more than 40 percent. The statement did not include numbers of how much the cuts would amount to, or the amount of the salaries of officials.
Lawmaker Mhamould Othman told CNN on Monday that each member of parliament receives $9,300 per month.
The draft law was sent it to parliament for approval, the statement said.
However, Iraqi lawmakers adjourned their parliamentary sessions until Saturday, Kurdish lawmaker Mahmoud Othman told CNN.
"All lawmakers were requested to go to their provinces ahead of the demonstration on Friday," Othman said.
On Sunday, Iraqi lawmakers approved Iraq's 2011 budget of 96.6 trillion dinar ($81.86 billion) after it was submitted by the council of ministers on February 6. National income is predicted to be $68.56 billion, leaving a shortfall of $13.3 billion (about a 16% budget deficit). The budget is based on average oil prices of $76.5 per barrel and projected exports of 2.2 million barrels of oil per day and includes 100,000 barrels per day of exports from the autonomous Kurdish region.
On Tuesday, hundreds of demonstrators protested in Baghdad and Sulaimaniya against lack of basic services, unemployment and corruption, police and witnesses told CNN.
Since early February, dozens of thousands of protesters have participated in a series of demonstrations across the country, apparently inspired by popular uprisings in Egypt and Tunisia. Their protetst are against corruption, restrictions on freedom of expression, unemployment and poor government services.