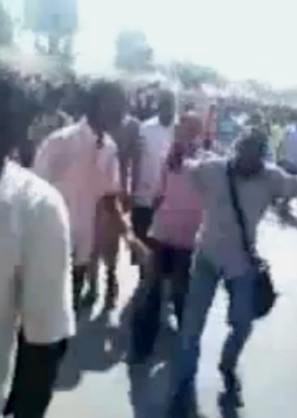 At least one person has been killed as pro-democracy demonstrations have taken hold throughout the strategic, small north-east African coastal state of Djibouti, echoing waves of protest seen throughout the Middle East.
Opposition parties said more than 30,000 people protested on Friday against the dynastic rule of President Ismail Guelleh, who last year scrapped a two-term constitutional limit to allow him to stand for re-election at polls due in April. Government officials say less than a thousand people took part.
Ismael Guedi Hared, an opposition leader who was arrested and released with two others on Saturday, told the Financial Times that protests have continued in seven towns throughout the tiny state of 850,000 people and that more organised demonstrations will go ahead soon.
"The people are protesting against dictatorship, bad governance, lack of democracy and dynastic succession," Mr Hared told the FT. "The opposition has formed a coalition and we have decided to do everything to make sure the protests continue."
State television broadcast scenes of tear gas exploding outside the national stadium in the capital on Friday, alongside riot police, burnt trucks, hospitalised police and hundreds of protesters, some armed with batons.
Protests had started peacefully, with one eyewitness telling the Financial Times that there had initially been an "enthusiastic party atmosphere".
The eyewitness continued: "Just at the call for prayer around 18.30 there were a few minutes of silence and immediately after that the police moved in, they had several tear gas canister devices mounted on trucks and scatted everybody – everybody was just running, running trying to get away."
Minister for the interior Yacin Elmi Bouh told the FT there were only 500 to 800 protesters but said police have arrested 40 so far and confirmed the arrest and release of three opposition leaders. Police had moved to disperse protesters after they failed to disband at the agreed time, he said.
"Protesters burned two trucks and stoned a policeman to death," he said, adding another police officer was seriously injured. He said a second death, that of a boy said to be a protester, had died in a traffic accident. Calls to the presidency went answered.
Abdourahman Boreh, a former friend of the regime who is now in exile, told the FT he is helping to fund security for the opposition from London. "This president cannot get away with this, he has broken the constitution – that is not acceptable especially today with what we have seen happening in Tunis and Cairo," said Mr Boreh. "The middle class is in meltdown – it doesn't even exist any more. There is no need for any of us to be poor."
Next door to conflict-wracked Somalia, Djibouti is an important base for anti-terrorist and anti-piracy activities. Its port is crucial for landlocked Ethiopia and has attracted millions of dollars of investment from Dubai and elsewhere in recent years.
The US bases its Africa military command, Africom, in the state, which the US says is a "vital strategic location". Last year it doubled its aid contribution to the country.
Nominations for Djibouti's early April election, in which only 150,000 people make up the electorate, are due to open next week.
"I think it's going to escalate – people were very surprised that the police moved in," said a regional political analyst. "Having cracked open the door it's angered people and I don't think it's going to disappear."