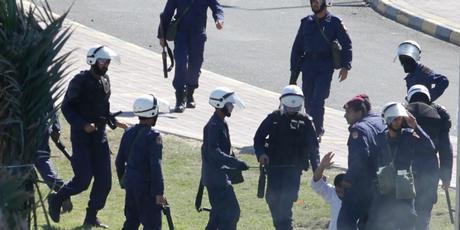 LONDON – Anger is growing over the enmeshed relationship between authoritarian Gulf governments and the British military and police.
As demonstrators in Bahrain and Libya attended funerals and faced down further live rounds yesterday, campaign groups called on the Government to re-evaluate whether Britain should be so heavily involved in the training of Arab police forces and their militaries.
In the past two years, British police have helped train their counterparts in Bahrain, Libya, Abu Dhabi, Qatar and Saudi Arabia through schemes run by the National Policing Improvement Agency, which organises overseas training. There are three fulltime advisers working with the Bahraini police, who were heavily implicated in the violent crackdown on protests in Manama last week.
Since the warming of relations between Libya and Britain, officers travelled frequently to Tripoli between 2008 and 2009 to train police, and Britain has authorised the export of tear-gas, crowd-control ammunition, small-arms ammunition and door-breaching projectile launchers.
Three years ago, amid controversy, ministers agreed to send Libya vehicles armed with water-cannons.
There are also unconfirmed reports that riot vans made by British companies have also been present during crackdowns in Benghazi where scores have been killed.
And there is the long-standing connection between the UK military and Arab regimes that send scores of officers through training at Sandhurst.
Five Arab heads of state are Sandhurst alumni, including the King of Bahrain, Sheikh Hamad ibn Isa Al Khalifa, who ordered the violent crackdown. He has also donated £70,000 ($149,000) to the Sandhurst Foundation.
Other Arab rulers who have been through officer training in Britain include King Abdullah of Jordan, the Emir of Kuwait, Sheikh Saad al-Abdullah al-Salim Al Sabah, the Sultan of Oman, Qaboos bin Said Al Said and the Emir of Qatar, Sheikh Hamad bin Khalifa Al Thani. The Prince of Dubai, Sheikh Hamdan bin Mohammad Al Maktoum, and numerous Saudis including Prince Mutaib bin Abdullah, commander of the Saudi national guard, are also Sandhurst-trained.
Tom Porteous, the UK director of Human Rights Watch, urged a government review of such close links after the attacks on peaceful protesters in Libya, Yemen and Bahrain.

Licences for arms export
Equipment approved for export by the British Government in the third quarter of last year included:
Bahrain: CS grenades, smoke ammunition, smoke canisters, tear gas/irritant ammunition, tear gas/riot control agents, thunderflashes.
Libya: Tear gas/irritant ammunition, crowd control ammunition, small arms ammunition, ammunition for launchers to breach walls and doors.