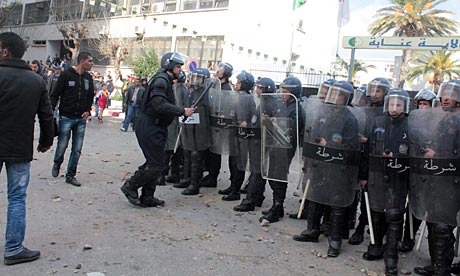 Protesters against Algeria's military regime are to hold further pro-democracy demonstrations on Saturday, despite the government's promise to end the state of emergency that has gripped the country for 19 years.
The oil-rich Maghreb state has used its powerful security services to prevent it from being swept up in the tide of popular uprisings across the Arab world.
Last weekend, 30,000 police saturated the capital, Algiers, to prevent 2,000 people from demonstrating. Riot police blocked off roads, and harassed, beat and arrested hundreds of people who had gathered.
The government swiftly announced it would soon relax the emergency powers in place since 1992, which prevent public demonstrations. It has also promised new measures to ease unemployment and the housing crisis – symbols of the extreme social inequalities of a nation whose vast oil and gas riches are concentrated in the hands of a military oligarchy.
An umbrella group of civil society groups, some independent trade unionists and small political parties have organised fresh demonstrations to end the authoritarian rule of the 73-year-old president, Abdelaziz Bouteflika, and the generals.
In a statement, the group's committee said: "Despite the warlike offensive in place in and around the capital, thousands of citizens broke through the wall of fear."
Demonstrators said people now felt less scared of taking to the streets. The protest organisers said the government's offer to lift the state of emergency was a red herring as it could simply be replaced by an even more repressive anti-terrorist law.
Protests remain banned in Algiers. In the key western city of Oran, authorities have allowed a demonstration to take place on Saturday, provided it happens in an indoor space.
In January, riots over food prices, poverty and unemployment left five people dead and 800 injured and sparked a series of attempts by desperate youths to set themselves alight in the name of revolution. But Algeria is still deeply traumatised by 10 years of bloody civil war in the 1990s, which saw 200,000 killed.
Algeria is one of the biggest gas exporters to Europe, with vast natural oil reserves and almost no external debt.
The government has planned to redistribute some of its oil wealth to buy off the nation's grievances, but opposition groups remain sceptical.