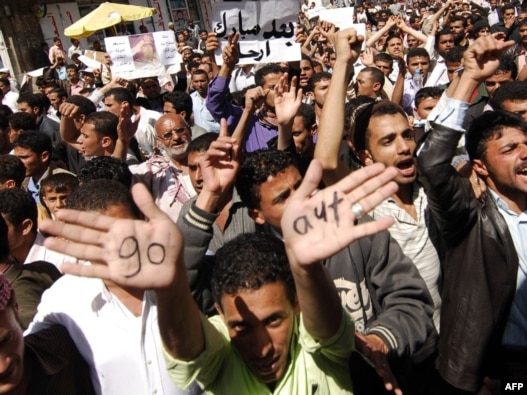 SANAA — Pro-regime supporters on Tuesday waded into an anti-government protest in Sanaa with stones and batons, sparking violent clashes that were ended by police wielding electric tasers, witnesses said.
At least three people were injured in the clashes, during which protesters also hurled stones at the loyalists, an AFP correspondent on the scene said.
Inspired by uprisings in Tunisia and Egypt, the protesters had earlier poured out of Sanaa University for the fourth day straight day to demand the ouster of President Ali Abdullah Saleh, in power for 32 years.
"The people want to oust the regime" the protesters chanted, repeating the slogan used by protesters in Egypt who forced president Hosni Mubarak to step down on the 18th day of mass protests.
As they advanced on Saleh's palace, supporters of his General People's Congress (GPC) party armed with batons and stones confronted the demonstrators, who responded by hurling stones, the AFP correspondent said.
Saleh's supporters tried to attack opposition MP Ahmed Saif Hashed, who participated in the protest, but his companions protected him, witnesses said.
Demonstrators said "police with tasers" had joined the pro-Saleh supporters in dispersing the crowd.
International human rights watchdogs have criticised what they say is police violence, in particular the use of tasers, against peaceful protesters.
Cyber activist Hashem al-Abara, who is involved in organising the protests through Facebook, vowed the demonstrators would not be intimidated.
"We will continue with the protests and the ruling party's attacks against our peaceful demonstrations will not set us back," Abara said.
"If Egypt stayed 18 days, it will not matter to us if we stay one, two or three months."
On Monday, rocks and batons flew in central Sanaa as the protesters — mainly students and lawyers — clashed violently with police and Saleh's supporters, witnesses said.
Clashes between police and thousands of protesters also broke out Monday in the city of Taez, south of Sanaa, leaving eight people wounded, witnesses there said.
Rights group Reporters Without Borders condemned what it said were attacks on journalists covering the protests.
"RSF roundly condemns the attacks that security agents, police officers and plainclothes men have carried out against journalists covering street protests in Sanaa during the past two days," the group said on Tuesday.
The Paris-based media watchdog urged "Yemeni authorities to allow journalists to do their work without fear of being arrested or physically attacked by members of the security forces, who are supposed to protect them."
It also called for an investigation into the abuses and punishing those responsible.
Abdullah Ghorab, the BBC's Arabic correspondent in Yemen, told AFP on Monday that he had been beaten by "men from the ruling party" and was left cut, bruised and with a bleeding nose in the incident.
Cameraman Mohammed Omran was beaten and had his mobile phone and watch taken, the BBC said in a statement.
Anger at rampant corruption helped to fuel the protests that led to the ousting of Tunisia's and Egypt's presidents and fed the wrath in Yemen.
In Sanaa, protests have becoming increasingly violent, despite Saleh — elected to a seven-year-term in September 2006 — urging dialogue aimed at forging a government of national unity.
The parliamentary opposition, grouped in an alliance known as the Common Forum which has previously led the protests, has suspended its participation in demonstrations after deciding to enter talks with the government.
The Common Forum said on Sunday it is "ready to sign a framework agreement this week… on (resuming) the national dialogue."