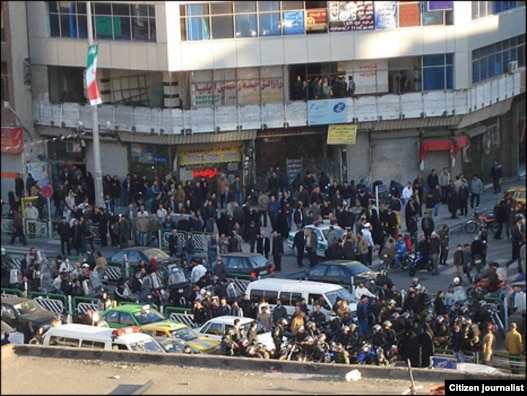 Reports from Iran say one person was shot and killed as police moved to break up antigovernment demonstrations in the capital, Tehran, on February 14.
Eyewitnesses have told RFE/RL that thousands of protesters answered calls from the opposition to turn out for a banned rally in support of the uprisings in Tunisia and Egypt.
Demonstrators were met with opposition by security forces, who fired into the air and used tear gas to disperse the crowd in the streets leading to Azadi Square, the announced site of the main rally.
The semiofficial Fars news agency reported gunshots killed one bystander and wounded others. Fars said "seditionists" from the banned rebel group the People's Mujahedin of Iran were responsible for the shooting.
A student activist who took part in the February 14 protest told RFE/RL that security forces had shut down some of the streets leading to the square. He said he saw thousands of people marching in the streets of Tehran toward the square and that the number of protesters grew as darkness fell.
The student activist also said he saw some protesters carrying canned food and warm clothes, "as if they were planning to spend the night in the streets."
"We are ready to die for freedom. We said goodbye to each other last night in case something happens," said the young man, who spoke on condition of anonymity.
"During last year's protests I saw Amir Javadifar. It could have been me," he added, referring to a protester who last year was arrested and died after being tortured.

Unable To Leave Home
Ahead of the protest, opposition leaders Mir Hossein Musavi and Mehdi Karrubi were reportedly prevented from leaving their houses. Karrubi was put under house arrest last week, while Musavi and his wife, Zahra Rahnavard, were prevented by security forces from joining the demonstration.
Their telephone lines were reportedly also cut to prevent them from communicating with opposition members.
Both men had filed a request for permission to demonstrate on February 14 in support of the recent uprisings in Egypt and Tunisia.
The same regime officials who have been vocal in their support for the revolution in Egypt and popular uprisings in other Arab countries refused to issue a permit.

Protests Grow
The February 14 rally quickly turned into yet another antigovernment demonstration, the most significant since the 2009 street protests that shook the Islamic republic. Protests were also reported in several other cities, including Shiraz and Isfahan.
The protesters — who included men and women, young and old — chanted slogans against Iran's Supreme Leader Ayatollah Ali Khamenei, including "Death to the dictator," "Mubarak, Ben Ali, Seyed Ali's Turn," and "Khamenei, shame on you, look at Mubarak."
Amateur video footage from Tehran shows citizens marching and chanting, "Political prisoners must be released!" and towards the end a woman shouts, "They used tear gas." People then start to run.
Another video shows protesters beating a man who is said to be a member of the pro-government Basij militia that has been used repeatedly by the regime in its crackdown on the opposition movement.
Opposition websites reported "dozens" of arrests. Iran's hard-line Fars news agency reported one person was killed and several  injured during the February 14 protest. Fars, which is said to have ties to the Revolutionary Guard, blamed the Mujahedin Khalq (MEK) group and members of the opposition Green Movement for the shooting.
http://www.rferl.org/content/opposition_protesters_clash_with_iran_security_forces/2308774.html