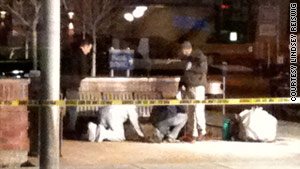 SPOKANE, Washington (CNN) — The FBI will consider recent local neo-Nazi activity in its investigation of a backpack bomb found this week along a Martin Luther King Jr. Day parade route in Spokane, Washington, but it has no evidence of any connections, the agency told CNN on Thursday.
Frank Harrill, special agent in charge of the FBI's Spokane field office, said authorities know of no link to "any specific group or individuals" and called reports linking the bomb to recent neo-Nazi activity in a nearby Idaho town "premature."
The bureau is looking into the incident as "an act of domestic terrorism," Harrill said.
"Every square millimeter of the backpack will be subjected to every kind of analysis, every component will be taken apart. It will be a laborious process, taking days if not longer," Harrill told CNN.
"It is too early to announce that we have a link to any specific group or individuals. We continue to investigate all possibilities, all avenues. There is no focus yet. Reports of a link are premature," he said.
Authorities are awaiting an analysis of the backpack and bomb materials at the FBI lab in Quantico, Virginia, Harrill said.
Tony Stewart, one of the founders of the Kootenai County Task Force on Human Relations in Coeur d'Alene, Idaho, told CNN he found the timing of the planted bomb and two recent neo-Nazi activities in Coeur d'Alene "just too overwhelming" and suggested hatred was also behind the Spokane bomb. Coeur d'Alene is 35 miles east of Spokane.
But Stewart had no evidence tying the Spokane bomb to the two activities in Coeur d' Alene. On Friday, a handful of neo-Nazis protested two Mexican restaurants with signs saying, "This is white land" and "We want you out of here," he said. His group held a King holiday activity with 1,400 fifth-graders that day, he said.
During the evening of Monday's King holiday, about 15 neo-Nazis demonstrated outside the Human Rights Education Institute in downtown Coeur d'Alene, Stewart said. The same evening, his group held a holiday gala at another location, he said.
About the Spokane bomb discovery, Stewart said: "It's clear that it was an attempt to end the march and attack human rights advocates.
"All three events were going on when there was a reaction by the white supremacists or hate groups in some way," specifically at the two Coeur d'Alene events, Stewart said. "We don't know who did it, but there was certainly a reaction to human right events. They were individuals who didn't like what we were doing."
The Coeur d'Alene area had been a hotbed of neo-Nazi activity through the Aryan Nations and Order II hate groups since at least the 1970s, though the groups were disbanded through criminal convictions and civil lawsuits by 2000, Stewart said.
Several bombings in Coeur d'Alene in the 1980s, including at the home of a Catholic pastor and priest who was also serving as president of the human relations task force, were blamed on the Order II, Stewart said. The priest wasn't injured in that bombing, he said.
The gray backpack was found Monday on a bench at the northeast corner of North Washington Street and West Main Avenue in downtown Spokane.
No threat was received before the device was found, nor was a note found with the backpack, Harrill said.
"Clearly it's not coincidence that it's placed along the march route," he said. "But it's too early to ascribe a motive, whether it's racial or political or something else."
The FBI released photos of the Swiss Army-brand backpack and two T-shirts found in it. One shirt says "Treasure Island 2009" and the other reads "Stevens County Relay For Life June 25th-26th 2010."
The device was discovered Monday morning by three parade workers before the event, Harrill said.
According to local media reports, the bomb was designed to be detonated by remote control and was packed with shrapnel.
"We won't comment or try to rate the device," Harrill said, declining to provide details on the components or how it was constructed. "But preliminary analysis reveals this device had the potential to be pretty lethal."
March organizer Ivan Bush said he didn't want to envision what would have happened had the backpack not been found.
"We have 2,000 people that participated in the march," Bush said. "Right on the front lines are kids. One of our high school drum lines was leading the march. We had preschoolers holding banners with 'Happy birthday, Dr. King' on it.
"Again, we are talking about folks' lives; we are talking about kids' lives," he said.
Bush said city leaders in Spokane had taken steps to improve the city's image by recently naming a street in honor of King.
Agents have leads in the case, Harrill said, but he would not provide details on the investigation.
A $20,000 reward is being offered for information leading to the arrest and conviction of those responsible. The FBI is asking the public for information on who might have been seen with the backpack from about 8 to 9:25 a.m. Monday. It also is asking for photos or videos taken in the area.
One of this week's march observers, Lindsey Resiwig, told CNN that authorities used a robot to investigate the backpack.
"We were standing on the balcony up there and watching with little binoculars and they came and started messing with the package and started pulling things out, and this took a very long time," Resiwig told CNN. "The robot came and went three or four times. It took hours."
Janet Hutchinson, who works next to where bomb was found, said FBI agents interviewed her "to see if I had seen anything strange or suspicious — people coming in with backpacks which they do in a store all the time," she told CNN.
"But it had been a really quiet morning so I had nothing to report to them," Hutchinson said.