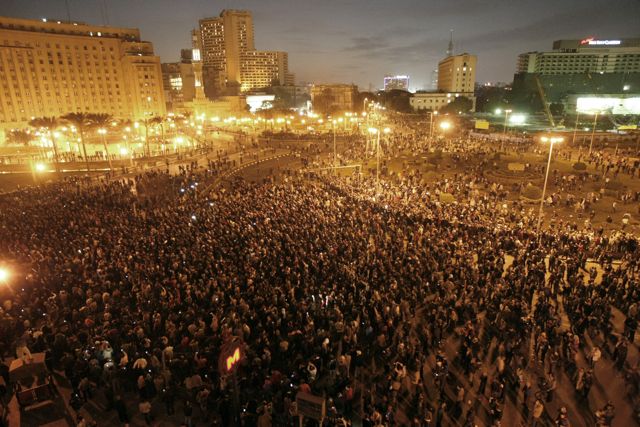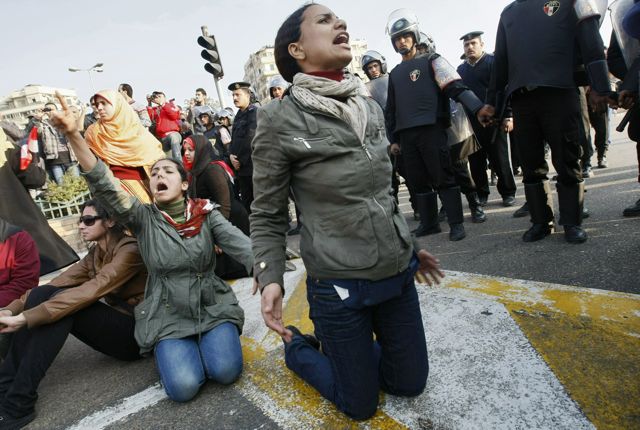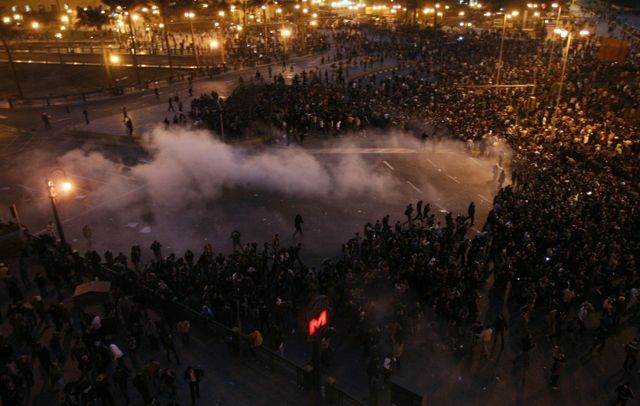 A day after huge protests, Egyptian security clamps down
Cairo, Egypt (CNN) — A day after an unparalleled display of public rage at Egypt's government and full-throated cries for the ouster of its longtime president, the country's security forces made their own potent presence felt on the angry streets.
Security forces turned water cannons and tear gas on protesters in the early hours of Wednesday morning to try to break up unprecedented anti-government demonstrations as the Interior Ministry warned it "will not allow any provocative movement or a protest or rallies or demonstrations."
The ministry urged "citizens to renounce attempts to bid and trade their problems and not lose sight of the consequences of provocation for those who attempt to try to open the door to a state of chaos or portray the situation in the country this way."
The clampdown comes after thousands of protesters spilled into the streets of Egypt on Tuesday, an unprecedented display of anti-government rage inspired in part by the tumult in the nearby North African nation of Tunisia.
Protesters had been expressing their anger over the rising cost of living, failed economic policies and corruption, but all those concerns were distilled into one overriding demand: the ouster of President Hosni Mubarak, a reliable American ally who's been in power for three decades.
At least four people died in the Tuesday clashes, the Interior Ministry reported — three protesters in Suez and one police officer in Cairo. It also said at least 102 security personnel were injured.
Protest organizers on Facebook called for "strikes and marches in populous neighborhoods" Wednesday, but did not outline specific plans.
"Tomorrow has to be spontaneous and must be in the more populous neighborhoods and not set for any particular time," the post said.
"Entering Tahrir Square will be dangerous and the response of security forces will be overwhelming," the post said, referring to the location of the largest protest Tuesday.
However, there were just a few demonstrations going on in Cairo, including a demonstration of 200 people in front of the journalists' syndicate — a group surrounded by 30 to 40 dozen riot police.
The Interior Ministry put the size of the demonstration in Cairo's Tahrir Square at 10,000 at its peak, falling to 5,000. CNN estimated that demonstration peaked at 15,000 to 20,000.
Twitter was blocked in Egypt Tuesday, the microblogging site said, adding: "We believe that the open exchange of info & views benefits societies & helps govts better connect w/ their people."
Protesters used social media including Twitter and Facebook to organize the demonstrations and to communicate during the day.
Organizers said they hope to capture the regional momentum for political change set by Tunisians, who forced the collapse of Zine El Abidine Ben Ali's 23-year rule.
The outpouring on Tuesday included young and old, Christians and Muslims, students, workers and businesspeople. There were other demonstrations in Cairo suburbs of Heliopolis, Shubra Al-Khaima, Muhandasin and Dar Al-Salam.
"We breathe corruption in the air," said one demonstrator, who along with others said their children have no future.
Calling its relationship with Egypt "strong and friendly," the U.S. State Department regards Mubarak's help in maintaining security in the Mideast as critical.
The government, which has diplomatic relations with Israel, has helped forge peace between Israel and the Palestinians and has helped in efforts to stabilize Iraq, the State Department said.
It contributes to U.N. peacekeeping missions, "played a key role during the 1990-1991 Gulf crisis," and is a "key supporter of U.S. efforts against terrorists and terrorist organizations such as Osama bin Laden and al Qaeda, the department said in a background note about Egypt.
U.S. military aid to Egypt totals over $1.3 billion annually, and the U.S. Agency for International Development has passed along over $28 billion in economic and development assistance to the country since 1975.
Asked about the protests, U.S. Secretary of State Hillary Clinton said on Tuesday that the United States believes the "Egyptian government is stable and is looking for ways to respond to the legitimate needs and interests of the Egyptian people."
State Department spokesman P.J. Crowley said Tuesday that the United States wants "to see reform occur, in Egypt and elsewhere, to create greater political, social, and economic opportunity consistent with people's aspirations."
"We have raised with governments in the region the need for reforms and greater openness and participation in order to respond to their people's aspirations — and we will continue to do so, Crowley said.

Three killed as protesters call on Mubarak to quit
January 27, 2011
CAIRO: An Egyptian policeman and two demonstrators were killed as thousands of anti-government protesters gathered in Cairo and other cities for marches inspired by the revolt that toppled the Tunisian President, Zine al-Abidine Ben Ali.
Protesters are demanding an end to the 30-year rule of President Hosni Mubarak, in an unusually large and sometimes violent burst of civil unrest.
Security forces initially struggled to suppress the demonstrations. But early yesterday, firing rubber bullets, tear gas and concussion grenades, the police finally drove groups of demonstrators from the square in Central Cairo, as a sit-in was transformed into a spreading battle involving thousands of people and little restraint.
Plainclothes officers beat several demonstrators, and protesters flipped over a police car and set it on fire. Protests also flared in Alexandria, Suez, Mansoura and Beni Suef.
The government quickly blamed the country's largest opposition movement, the Muslim Brotherhood, which is tolerated but officially banned. The Islamic movement declared that it had little to do with the protests.