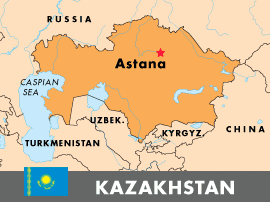 January 25, 2011
ZHANA OZEN, Kazakhstan — One of six women on hunger strike over housing and other social conditions in a western Kazakh town has been hospitalized, RFE/RL's Kazakh Service reports.
Hunger striker Damesh Sargulova told RFE/RL that Tamara Erghazieva was taken to a hospital in Zhana Ozen after feeling unwell on January 24.
Erghazieva told RFE/RL from the hospital that had lost feeling in her arms and legs.
The other five members of the group are continuing the hunger strike that began on January 20.
The women are demanding that people who have been waiting an extended period for state housing be given places to live and that at least one member of their families be employed by a local branch of the KazMunaiGaz energy company.
The protesters told RFE/RL that no government officials have met with them since they began their hunger strike.