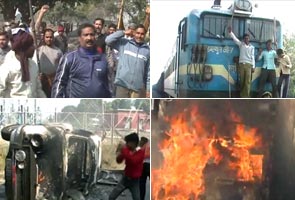 January 21
Allahabad:  Violent scenes were witnessed in the Karchana village of Allahabad today over demands for higher compensation for land acquisition.
Villagers torched police and government vehicles this morning and even attacked a police personnel after promises of compensation weren't met by the Jaypee Group which is setting up a thermal power plant in the area.
The group acquired 1,400 acres of land in seven villages for the project with a proposed capacity of 1,320 MW.
The villagers are demanding a higher compensation for the fertile agricultural land acquired and a job for one member from each family in the plant.
The job was promised to them but has not been delivered. The farmers were on a hunger strike since seven days. The condition of two striking farmers worsened forcing the administration to end the strike.